From Rappler (Feb 2):
DOJ to file charges vs 13 MILF, BIFF commanders
The names of the suspects – 5 from the MILF, 8 from BIFF – came out in the testimonies of witnesses residing near the encounter site, says Justice Secretary Leila De Lima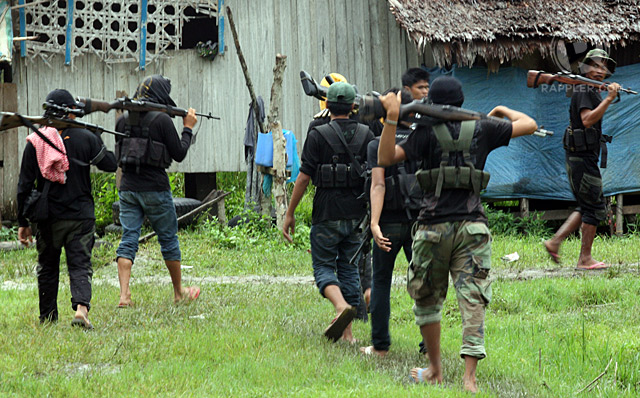 Justice Secretary Leila de Lima told a local radio station here Monday, February 2, that her office is collating reports from concerned agencies and gathering evidence.
Five of those who will be charged are
lieutenants of MILF chairman Al Had Haq Ibrahim Murad:
Sakaria Goma

Wahid Tundok

Ustdads Nanan

Abdurahman Upan

Sansudin Pakinda
The other 8 who will be facing charges are former MILF members who are now with the BIFF:
Abe Sali Usop

Badrudin Mamad

Misuari Mamalangkay

Sukarno Sapal

Hasan Indal

Abu Misri

Toks Akad

a certain Kadialen
"The names of the suspects came out based on the testimonies of witnesses residing near the encounter site who were interviewed by the authorities," De Lima said.
Earlier, President Benigno Aquino III ordered the DOJ to file appropriate charges against the perpetrators in the massacre of 44 policemen.
MILF's vice chairman for political affairs Ghadzali Jaafar said they are not certain whether to turn over to authorities their commanders allegedly involved in the clash since the organization is also conducting its own probe.
There are proposals to take the case to an
international court
over possible war crimes. (READ:
Miriam: Determine command responsibility over Mamasapano
)
The deadly fighting occurred on January 25 while members of the Philippine National Police Special Action Force were in Mamasapano town in Maguindanao on a law enforcement operation against Malaysian terrorist Zulkifli bin Hir, also known as Marwan, and JI Commander Basit Usman.
Zulkifli – who has a $6-million bounty by the United States Federal Bureau of Investigation for his involvement in the 2002 bombing in Bali, Indonesia, that left 110 foreign nationals dead – was reportedly killed. Usman, a "bomb-making" expert who has a $1-million bounty on his head, escaped.
While police commandos were pulling out from the BIFF site, they encountered a group of MILF rebels under the 105th Base Command, resulting in fierce fighting.
The MILF claimed it was a misencounter and that they also lost 18 colleagues, while 14 others were wounded. Seven civilians were also killed in the incident, according to a Bangsamoro NGO that interviewed residents.
http://www.rappler.com/nation/82668-doj-criminal-charges-milf-biff-commanders