From the Philippine Star (Jul 7):
One of Maute brothers killed, military says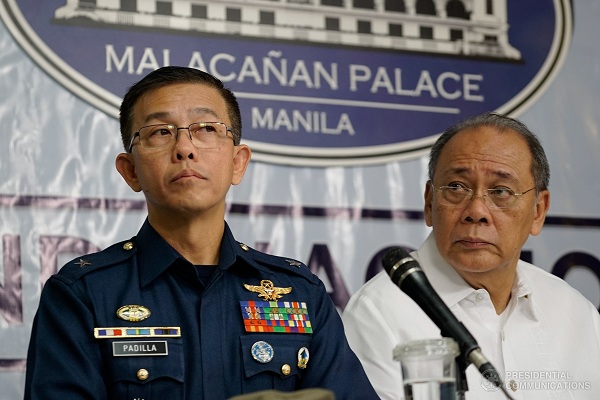 Brig. Gen. Restituto Padilla, left, said that one of the Maute brothers may have been killed. PCOO
One of the Maute brothers leading the siege of Marawi may have been killed, the military said on Friday, as operations continued to target an appointed commander of the so-called ISIS whose foiled arrest triggered the most serious security crisis the one-year government of President Rodrigo Duterte has faced so far.
Speaking in a media conference, Brig. Gen. Restituto Padilla, a military spokesperson, said that there were indications that one of the Maute brothers had died.
The military, however, could not give a categorical confirmation of his death until his final resting place was located, according to Padilla.
"As to the death of some of the Maute brothers, there is indication that one has died but until such time that the grave on where he was buried is located, we cannot categorically confirm,"
he said.
Philippine security forces have been battling Islamist militants in Marawi since May 23 when an attempt by government troops to capture Abu Sayyaf subleader Isnilon Hapilon, an emir of the so-called ISIS, was foiled by fighters belonging to the Maute Group and Abu Sayyaf.
The battle quickly turned into an intense urban, street-to-street combat, and this resulted in Duterte's declaration of army rule in Mindanao, the president's home island of 22 million.
As the fighting escalated, most of Marawi's 200,000 residents and others from neighboring towns in Lanao Del Sur and Lanao Del Norte fled for safety.
Padilla said that military ground commanders still assumed that Hapilon was still in Marawi as there was no confirmation of his escape from the city.
"On the status of Isnilon Hapilon, the assumption of our ground commanders based on the lack of confirmation regarding his escape or flight from the area of Marawi is that he is still in the area,"
he said.
The military spokesperson said that security personnel's operations were focused on possible areas where Hapilon was still hiding although he declined to disclose any specific location.
"Our operations are focused on the possible area where he is believed to be still in hiding. I could not disclose that exact location," Padilla said.
Based on the latest government statistics, the fighting in Marawi has already killed 353 militants, 87 government troops and 39 civilians.
According to Padilla, around 200 to 300 civilians are still trapped in the conflict zone as the number of militant rebels continues to decline.
He said that only around 80 fighters remained entrenched in around four villages in the city.
http://www.philstar.com/headlines/2017/07/07/1717334/one-maute-brothers-killed-military-says