From the Mindanao Examiner (Jun 9):
Malaysian peacekeepers visit Sulu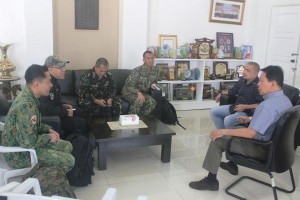 SULU –
Malaysian peacekeepers deployed in southern Philippines have travelled to the southern province of Sulu on Thursday and met with local government leaders as part of a goodwill visit.
The group, led by Col. Mohammad Zaki bin Abu, of the International (Ceasefire) Monitoring Team (IMT) 3, spoke with Sulu Gov. Toto Tan and his father, Sakur, who is the vice governor, and thanked them for the warm hospitality and support to the peace process which Malaysia is brokering between the Philippines and the Moro Islamic Liberation Front.
Gov. Tan renewed his support to the peace process and praised Malaysia and other member countries in the IMT for their commitment to bring peace in southern Philippines.
The team leader was also accompanied by Badli Hisham Bin Adam, also from Malaysia; and Khairul Rizal bin Mohammad Ali, of the Brunei Army, and Filipino counterparts Lt. Col. Abdurasad Sirajan and Sgt. Kaidar Dugasan.
The visiting military officials also exchanged tokens with the governors and vice governors, respectively, and later visited the Rajah Baguinda Shrine in Bud Datu in Indanan town.
The shrine was erected in memory of the Arab religious missionary from Sumatra who arrived in southern in 1390. Sulu celebrates Rajah Baguinda Festival every 2
nd
week of August and is often marked with three days of cultural shows to commemorate the contribution the missioner in the rich history of the province.
Last year, IMT members 10 headed by Maj. Gen. Datu Sheik Mouhsin bin Sheikh Hassan, of the Malaysian Army, also visited Sulu and paid their respect and courtesy to Vice Gov. Tan.
Among those in the group of the Malaysian general were Col. Mohammad Radzi bin Abdulhamid (Malaysian Army), Col. Wan Amir Zaki bin Wan Hassan (Malaysian Air Force), Maj. Baharuddin (Indonesia Army), Supt. Azhar bin Sepawi (Royal Malaysian Police), Deputy Supt. Mohammad Hafidz bin Abubakar (Royal Malaysian Police), Capt. Mohammad Azman bin Hadji Kamaruddin (Royal Malaysian Police) and Sgt. Kamaruddin bin Yusof (Malaysian Army).
The visiting soldiers also toured the local museum and were impressed by the colorful and rich history between Sulu and Malaysia during the reign of the Sultanate of Sulu and North Borneo.
http://mindanaoexaminer.com/malaysian-peacekeepers-visit-sulu/