From the Philippine Daily Inquirer (May 3):
MILF helps in hunt for Abu Sayyaf, calls Ridsdel beheading anti-Islam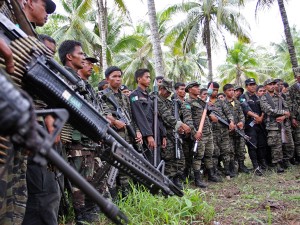 Moro Islamic Liberation Front . INQUIRER FILE PHOTO
The Moro Islamic Liberation Front (MILF) said

on Tuesday

it has been helping government forces in tracking down the Abu Sayyaf gunmen responsible for the beheading of Canadian hostage Joh Ridsdel in Sulu.
Ridsdel's head was found near a police station in Jolo on April 25 while a body, suspected to be his, was recovered in a remote area in Talipao town
two days later
.
Sammy Al-Mansour, the MILF military chief

, said their men in Sulu had specifically been tasked to determine the exact location of the Abu Sayyaf members behind Ridsdel's death.
Ridsdel, 68, was one of four people snatched from a marina on Samal Island on
September 21
. The others were Robert Hall, also a Canadian; Norwegian Kjartan Sekkingstad; and Filipino Maritess Flor.
"What they did was anti-Islam. We highly condemn it," Al-Mansour said.
He said based on latest information, Ridsdel's killers were still in Sulu.
"We are helping in tracking down by gathering information. We just need proper coordination. And if government forces have information too, they can pass it to us and we will forward it to our joint forces on the ground," he said.
This was not the first time the MILF has mobilized forces against the Abu Sayyaf.
Shortly after the May 25, 2013 clash in Sulu that killed seven Marine soldiers, the rebel group – which signed a peace agreement with the government – also helped government forces locate the bandits, under Radulan Sahiron.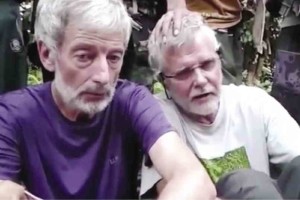 OUTRAGE Canadians John Ridsdel (right) and Robert Hall are shown in this video grab sent earlier by the Abu Sayyaf to media outlets. MILITANT VIDEO VIA AP VIDEO
On February 7, 2015, MILF forces actually clashed with Abu Sayyaf bandits they were running after in Basilan. An Abu Sayyaf sub-leader was killed in the that clash while an MILF member was wounded.
Aside from actually engaging in combat against the Abu Sayyaf, Al-Mansour said MILF rebels have also been clearing the path for operating soldiers.
On April 9, 2016, Maj. Filemon Tan Jr., the spokesperson of the Western Mindanao Command, confirmed that MILF forces stepped aside when government forces entered Barangay Baguindan in Tipo-Tipo to run after Abu Sayyaf bandits.
Brig. Gen. Glenn Macasero of the government's ceasefire committee said prior coordination was made with Hadji Dan Asnawi, commander of the MILF's 114th Base Command, and Hamsa Sapanton, commander of the MILF's Provincial Police Force in Basilan.
"We have implemented this to avoid confrontation between the military and the MILF," Macasero said.
"We have talked to the base commander, then the MILF CCCH to establish and relay the general area of operations, and the men of Hamsa Sapanton of the provincial police force were re-positioned. They were relocated from Baguindan to Bohe Piyang," Macasero said.
http://globalnation.inquirer.net/139216/milf-helps-in-hunt-for-abu-sayyaf-calls-ridsdel-beheading-anti-islam