Just posted to the Samar News (Jun 21):
Army troopers distributed computers, books to elementary schools in Northern Samar

By

20th Infantry Battalion

, 8ID PA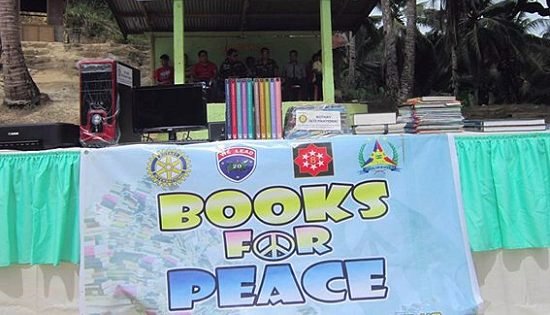 BRGY. MAGSAYSAY, Lope de Vega, Northern Samar – The troops of 20th Infantry (We Lead) Battalion, 8th Infantry (Stormtroopers) Division, Philippine Army has distributed a total of five (5) sets desktop computers, with complete accessories and two hundred fifty (250) assorted text books and reference materials to five (5) elementary schools in Northern Samar province that was conducted from June 6-13, 2013.
Lieutenant Colonel Noel A Vestuir, 20IB's Commanding Officer

, in his report to

803rd Brigade Commander, Colonel Rolando Malinao

, said the items were donated by Rotary Club of Loyola Heights through the efforts of the
Office of the Deputy Chief of Staff for Civil Military Operations (J7), AFP.
The computers and books are part of the joint project of AFP and Rotary International dubbed as "Books for Peace" aims to provide text books, reference materials and computers to remote barangays in support to the government's effort of providing quality education focusing in conflict affected areas.
Among the beneficiaries of the project are San Miguel Elementary School, Curry Elementary School and Magsaysay Elementary School in Lope de Vega; Trojillo Elementary School in Bobon; and Happy Valley Elementary School in San Isidro, all of Northern Samar Province.
LTC Vestuir, CO, 20IB personally handed over the books and computers to Mr Cristito A Eco, the OIC, Division Schools Superintendent of DepEd,
Northern Samar
, who in turn gave the items to the district supervisors and principals of the recipient schools.
The activity was also attended by the district supervisors, principals, teachers, pupils, parents, barangay officials of the recipient schools and barangays and the local media from
Calbayog
City
and Catarman.
Mr Eco expressed his gratitude to the Philippine Army and the Rotary International for the realization of the project that would certainly enhance the learning process in the elementary schools. According to Mr Eco, this is the first time that the recipient schools were able to receive such computers and books. He also urged the teachers and pupils to properly take care of the said items in order for the next generation of pupils to also benefit from it.
According to LTC Vestuir: "The Books for Peace project would greatly help upgrade the literacy level of elementary pupils of the recipient schools considering that the area has limited access to some open source and readily available reference materials such as internet. He also thanked the AFP leadership, the office of the Deputy Chief of Staff for CMO, OJ7 and the Rotary Club of Loyola Heights for their support to the Bayanihan Activities of the Unit.
Indeed, the activity has exemplified the firm resolve and commitment of the people behind the project to help the children as the hope of our fatherland.
http://www.samarnews.com/news2013/jun/c703.htm