From the Philippine Star (Aug 8):
Investigators gather clues at Sokol chopper crash site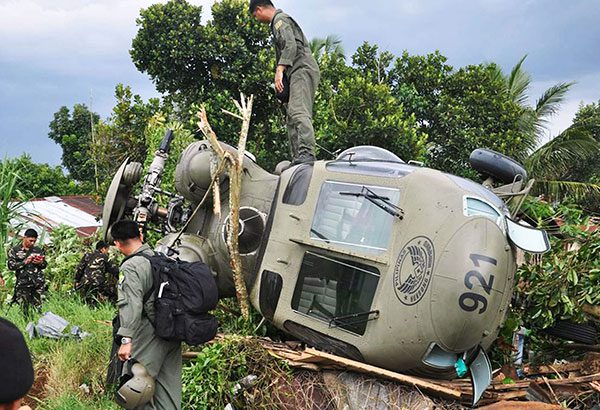 Photo from the defense department shows an Air Force Sokol helicopter providing security to Defense Secretary Voltaire Gazmin and Interior Secretary Mar Roxas after it crashed as it took off from Camp Ranao in Marawi City yesterday.
An air crash investigation team arrived Friday at the site of the Air Force "Sokol" combat utility helicopters in Marawi City to determine the cause of the crash.
Lieutenant Colonel Enrico Canaya, spokesman of the Philippine Air Force

, said in state news interview that the team of investigators will be looking into "equipment, environment and piloting" factors that led to the mishap that injured two people on Thursday.
The chopper's crewmember, Staff Sgt. Darius Valdez and a bystander identified as Santiago Savedra were hurt. The bystander was hit by a debris from the chopper.
The Sokol chopper, purchased from Poland brand new in 2012, was a back-up chopper in a convoy carrying Interior Secretary Manuel "Mar" Roxas III and Defense Secretary Voltaire Gazmin when it crashed at Camp Ranao, headquarters of the 103rd Infantry Brigade.
Canaya said it is still too early to tell whether the airframe of the wrecked aircraft will be airlifted to Villamor Air Base in Pasay City for a more detailed examination.
Armed Forces chief-of-staff General Gregorio Pio Catapang earlier ordered the Air Force's leadership to investigate on the incident.
The seven remaining "Sokol" helicopters in the Air Force's service were grounded following the accident until the investigation team has released its findings.
http://www.philstar.com/nation/2014/08/08/1355296/investigators-gather-clues-sokol-chopper-crash-site