From Rappler (Jan 1):
6 killed in Basilan New Year party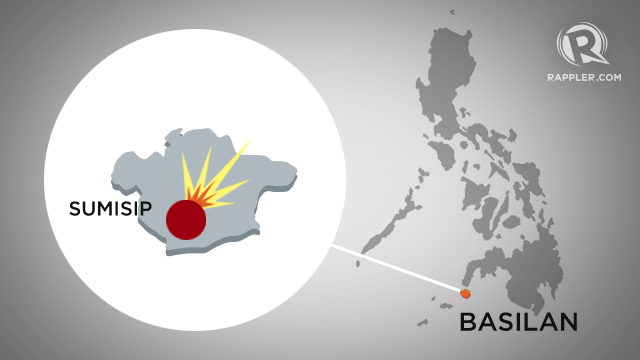 A bomb exploded at a New Year party in the province of Basilan, killing 6 and injuring 6 others less than two hours before the stroke of midnight.
Initial military reports said at about 10:22 pm on Tuesday, December 31, a bomb exploded at the home of a certain Manuel Cisneros, who hosted a gathering after the local New Year's mass at his residence near Zone 6, Barangay (village) Tumahubong, Sumisip.
The town of Sumisip on Basilan is an island were Al-Qaeda-linked Abu Sayyaf militants operate, local army spokesman Captain Jefferson Somera said. Casineros is a pro-government militiaman volunteer and driver for the church.
The civilians wounded in the attack received medical attention.
Police said the motive of the attack was not clear, although Casineros apparently had been helping authorities in protecting rubber plantation workers from extortion by armed gangs, including the Abu Sayyaf.
Last year, Abu Sayyaf gunmen ambushed a convoy carrying plantation workers, killing 6 and wounding 22 in the same area.
Founded in the 1990s with seed money from Osama bin Laden, the Abu Sayyaf has been blamed for the country's worst terrorist attacks, including kidnappings of foreigners and deadly bombings.
The government has said the group had degenerated into a crime gang with no clear ideology over the years, and its ranks falling to just over a few hundred.
Authorities said an Abu Sayyaf faction on a nearby island was believed to still hold a number of foreign as well as Filipino hostages, including two European birdwatchers and a Japanese treasure hunter.
In December, a Jordanian TV reporter held in captivity for 18 months claimed to have escaped from his captors
http://www.rappler.com/nation/46991-basilan-blast-new-year