From GMA News (Apr 9):
Chinese fishing vessel does a Guardian, runs aground in Tubbataha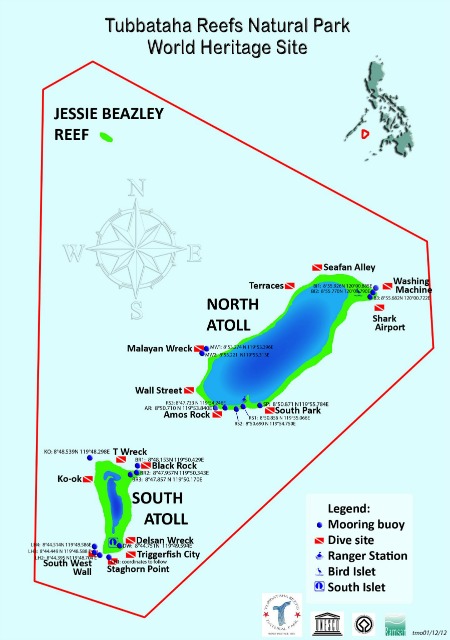 Nearly three months after an incident involving a
US
minesweeper, a Chinese fishing vessel ran aground in Tubbataha Reef shortly before midnight Monday.
The incident involving the Chinese fishing vessel with hull number 63168 occurred at 11:40 p.m. Monday, radio dzBB's Carlo Mateo reported Tuesday.
Initial information from the Tubbataha Management Office indicated the vessel ran aground some 1.1 nautical miles east of the ranger station.
Tubbataha Reef is a World Heritage site.
Park rangers were quoted in the dzBB report as saying the Chinese vessel had at least 12 crew members on board.
The Philippine Coast Guard has sent a search and rescue vessel (SARV-3503) to the area to investigate.
Monday night's incident occurred barely three months after the minesweeper USS Guardian ran aground in Tubbataha Reef last Jan. 17.
Authorities estimated the USS Guardian damaged 2,345.67 square meters, and may fine the
US
government P58.4 million.
Coast Guard quizzes Chinese fishermen
An updated report by dzBB
Palawan
affiliate James Viernes said the Coast Guard's
BRP Romblon
is expected to arrive in the reef area at 9:30 a.m.
Coast Guard
Palawan
and Task Force Tubbataha head Commodore Enrico Evangelista said they will conduct an inventory of the fishing vessel.
He said they will particularly look for weapons and illegal catch.
Evangelista also said they may turn over the fishermen to the Bureau of Immigration for "illegal entrance" into the country.
The Coast Guard may also check the damage to the reef and then tow the Chinese fishing vessel toward
Puerto
Princesa
City
.
The last time Philippine authorities attempted to arrest Chinese fishermen and seize poached marine life, in April last year, an international stand-off between the
Philippines
and
China
at Panatag Shoal near the Zambales coast resulted in the occupation by
China
of the shoal, a situation that persists one year later.
The dzBB report Tuesday morning said the Coast Guard is having problems communicating with the 12 Chinese fishermen in Tubbataha, and may need the services of an interpreter
.

North islet
The Chinese fishing vessel ran aground on the eastern flank of the north islet, said World Wide Fund for Nature-Philippines president Lory Tan.
Tan said WWF-Philippines is monitoring the area with a team from the Department of Science and Technology on Tuesday.
The USS Guardian ran aground on the south islet, Tan added.
http://www.gmanetwork.com/news/story/302979/news/regions/chinese-fishing-vessel-does-a-guardian-runs-aground-in-tubbataha?ref=bannerh1