From PTV News (Apr 15, 2019):
Matteo Guidicelli, Ivan Carapeit and Luis Ruiz join the Army
Army Reserve Command (Arescom) via Eunice Samonte – PTV News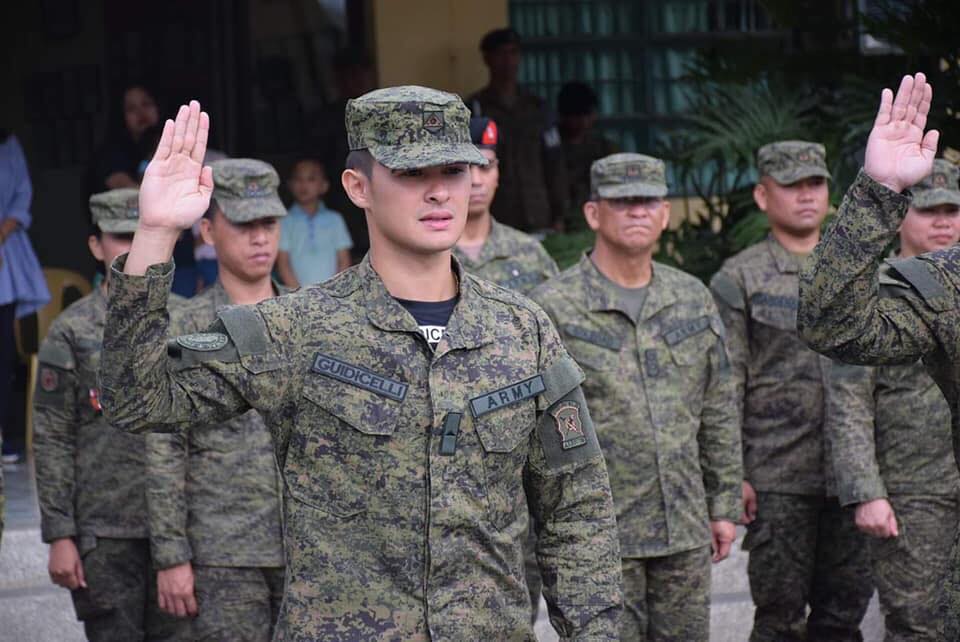 Matteo Guidicelli
Three brave souls took oath as reservists of the Armed Forces of the Philippines in Hqs ARESCOM, Tanza, Cavite today (April 15,2019).
Matteo Guidicelli, Ivan Carapeit and Luis Ruiz were enlisted as Private whose rank were donned by Major General Bernie Langub, ARESCOM Commander during the flagraising ceremony.
The new reservists will soon be taking trainings in order to prepare them in the event of natural disasters and national emergencies.
Also attending the activity were the family members of Guidicelli and Carapeit who are all supportive of their son's chosen career to serve the country.
"The rank is emplaced near their heart because it means only those who have the heart to serve will be fit to wear the uniform," MGen Bernie Langub said. "It is beyond the uniform, it is all about willingness to serve the country and being prepared for any eventuality."
"I congratulate these brave young men for choosing to serve," added MGen Langub.
The Army Reserve Command is the unit whose primary mission is to recruit, motivate, administer, train and equip reservists in the Armed Forces of the Philippines. The unit is open to all Filipino citizens who are willing to serve the country in the most noble way as members of the reserve component of the AFP.
https://ptvnews.ph/matteo-guidicelli-ivan-carapeit-and-luis-ruiz-join-the-army/