From the Mindanao Examiner (Apr 5, 2019):
Abu Sayyaf and Philippine troops clashed, Malaysian hostage shot
Malaysian hostage by the Abu Sayyaf was shot and wounded following a firefight between pro-ISIS militants and Filipino soldiers on Simisa Island off the southern province of Sulu.
Soldiers recovered the 24-year old Jari bin Abdullah on Simisa Island where security forces had engaged Abu Sayyaf fighters under Najir Arik in sporadic clashes since last month.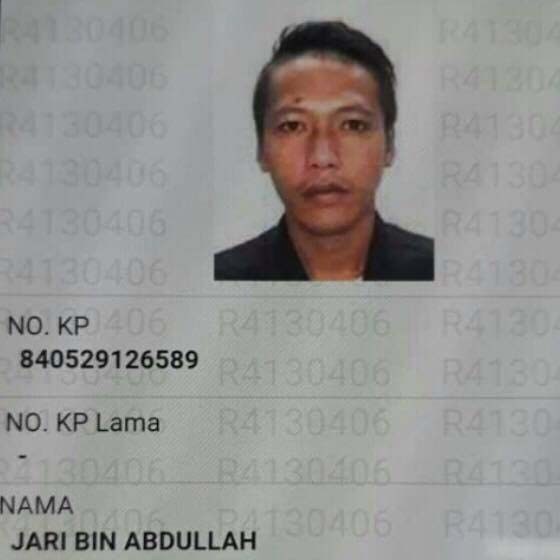 A Philippine military photo shows Malaysian national Jari bin Abdullah who was shot on April 4, 2019 following a clash between Abu Sayyaf and security forces on Simisa Island off Sulu province in southern Philippines.
Abdullah was recovered on Thursday afternoon, but the Western Mindanao Command only reported this the next day. In a conflicting report, it claimed Abdullah was retrieved by Marines who were pursuing the Abu Sayyaf gunmen, but the military also said that the hostage was shot by his captors while escaping. It was unclear whether soldiers saw the militants shooting Abdullah.
"Troops from the Philippine Marine Ready Force Sulu retrieved Jari Bin Abdullah near the Abu Sayyaf's route of withdrawal, fifteen minutes after troops engaged the militants under Najir Arik on Simisa Island," the Western Mindanao Command said in a statement.
And added: "The Joint Task Force Sulu, under Brigadier General Divino Rey Pabayo, Jr., said Abdullah managed to escape, but he was shot by his captors before he was secured by the troops."
It also quoted Pabayo as saying: "The act of shooting the kidnap victim is indicative of the Abu Sayyaf's hopelessness and desperateness as the militants are now surrounded by our pursuing troops. The Armed Forces of the Philippines in Sulu is now more motivated to hunt down these terrorists."
The military said Abdullah was airlifted by a helicopter to a military hospital in the capital town of Jolo on the mainland of Sulu.
Lt. Gen. Arnel Dela Vega, chief of the Western Mindanao Command, said the Abu Sayyaf is still holding several hostages on the forested island and that soldiers were deployed in Simisa to rescue the captives. "Marine troops continue their pursuit and offensives to run down militants and rescue captives on the island. Troops maximize combat and intelligence build-up to track down and close in on evading terrorists, delivering deliberate operations to ensure the safety of kidnap victims on Simisa Island," he said.
The Abu Sayyaf has previously threatened to execute Abdullah along with two other Indonesian fishermen Heri Ardiansyah, 19, and Hariadin, 45, if their governments or employer fail to pay ransoms running into millions of pesos.
The captors also phoned Abdullah's wife, Nadin Junianti, in February telling her that no Malaysian authorities or negotiators have contacted them to secure her husband's release.
The gunmen said that her husband would face difficulties if there was no contact from Malaysia. They also asked her for telephone contacts of Malaysian journalists. The woman has repeatedly appealed to Malaysian authorities to help secure her husband's release. She said it was the second time the kidnap group had contacted her.
The militants are believed to be holding nearly a dozen captives, mostly foreigners. Sabah Police Commissioner Datuk Omar Mammah said authorities were working with their Philippine counterparts to secure the release of the hostages who were kidnapped at sea off Sandakan in Sabah on December 5, 2018.
https://mindanaoexaminer.com/abu-sayyaf-and-philippine-troops-clashed-malaysian-hostage-shot/