From the Philippine Star (Dec 26):
Troops repel BIFF attack on Maguindanao detachment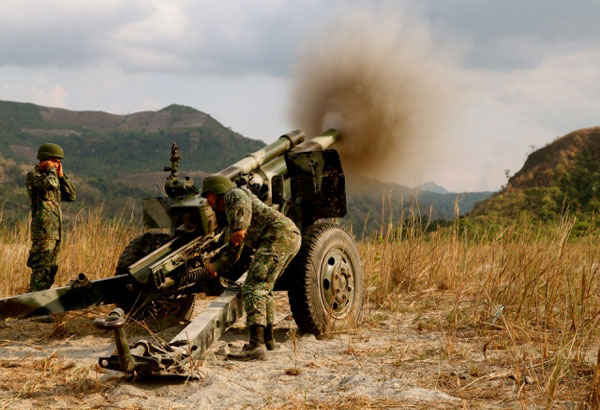 Philippine Marines fire an M101 105 mm howitzer during artillery live-fire training. Cpl. Courtney G. White/U.S. Marine Corps, file
Government forces fended off an attack by the Islamic State-inspired Bangsamoro Islamic Freedom Fighters over the Christmas holiday, killing 13 bandits and wounding five others.
Army officials and Senior Supt. Agustin Tello of the Maguindanao provincial police office said Monday that
BIFF gunmen armed with assault rifles and grenade launchers first attacked at about 10:00 p.m. Sunday a detachment of the 57th Infantry Battalion in Barangay Maitemaig, Datu Unsay.
The soldiers in the detachment, whom villagers had warned of a possible BIFF attack, managed to drive the bandits away after an hour-long gunfight.
They carried away five wounded companions.
Moro community elders identified the injured bandits as Said Abunawas, Khong Salik, Usman Sumablao, Andang Sanged and Mudin Alemansa.
Major Gen. Arnel Dela Vega of the Army's 6th Infantry Division said the retreating bandits set fire to houses along the way.
The owners of the houses had already evacuated to safer areas before the attack.
All three factions in the BIFF, which reportedly teaches hatred against non-Muslims and collects "protection money" from farmers,
use the black flag of the Islamic State of Iraq and Syria.
The BIFF has also reportedly been subjecting villagers to a brutal Taliban-style justice system.
The 6th ID and the Tactical Operations Group 12 of the Philippine Air Force launched artillery and aerial offensives against the fleeing BIFF gunmen before dawn on Monday as they reached less populated areas of the town.
Members of the multi-sectoral peace and order councils in Datu Unsay, Datu Saudi, Shariff Aguak and South Upi towns said 13 BIFF bandits were killed by explosive rockets fired by attack helicopters.
Army artillery positions in nearby towns also bombarded three BIFF groups from Datu Saudi and Datu Hoffer towns to prevent then from reinforcing their companions.
Abu Misry Mama, spokesman of one of three factions in the BIFF, has confirmed their losses to the military counter-attack.
He told reporters the BIFF will avenge the deaths of their companions killed in its latest encounters with units of 6th ID, which has jurisdiction over Maguindanao province.