From ABS-CBN (Aug 5):
More intense firefights as Marawi siege nears end: Año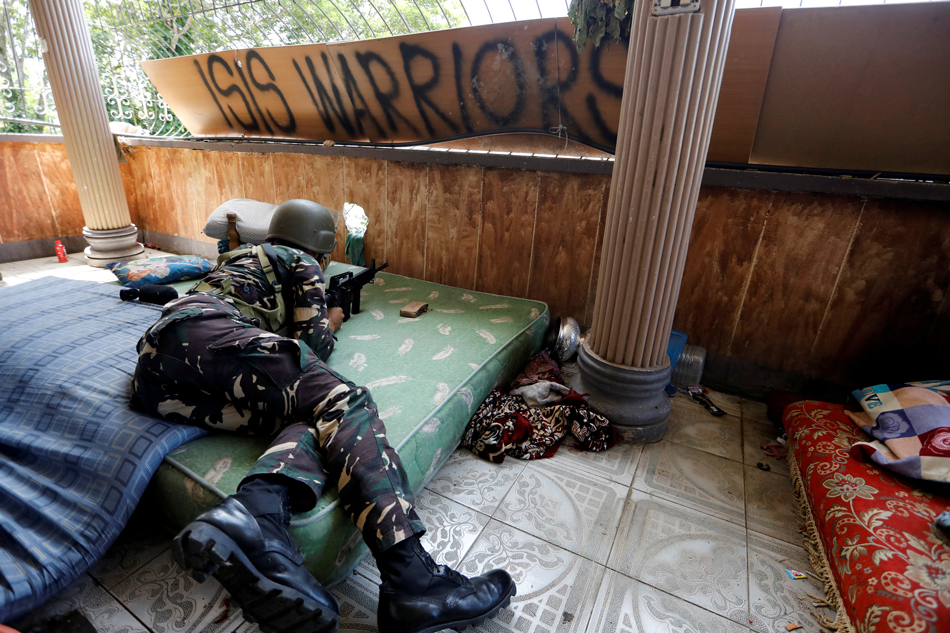 A Filipino soldier lies on a mattress at their combat position in a house as government troops continue their assault against Maute group terrorists in Marawi City, Philippines July 1, 2017. Jorge Silva, Reuters
Bent to finish the crisis soon, the military is engaged in more intense firefights against extremists still holed up in a limited area in Marawi City, Armed Forces of the Philippines (AFP) Chief of Staff Eduardo Año said Saturday.
Año said the military aims to neutralize all remaining terrorists in the city including Abu Sayyaf top leader Isnilon Hapilon and Maute group leader Abdullah Maute, both of whom are known to still be in the main battle area.
"Lesser fighting compared [to] before [but] more intensity. Naiwan na lang (the only ones left are) Hapilon and Maute,"
he told reporters.
Año said the military has received reports that other terror leaders such as Omar Maute and Mohammad Khayam or "Otto" have already died in battle.
President Rodrigo Duterte previously
offered
a P10 million reward for the "neutralization" of Hapilon and P5 million each for Abdullah and his brother Omar, leaders of the terror group under their name.
More than 300 hostages are still trapped in the besieged city, but Año said the hostages have already been isolated from the extremists.
"Maingat tayo sa pag-attack doon para walang madadamay na tao doon. Mas mahirap ang labanan. Na-isolate na natin ang mga residents," he said.
(We are careful in launching attacks there so that no civilians will be affected. The fighting is more difficult. We have isolated the residents.)
The military chief is also confident that clashes in the war-torn city will end even before the
extended martial law
in Mindanao expires in December.
On Friday, military spokesperson Brigadier General Restituto Padilla said operations against the terrorists were
confined
to only less than a square kilometer within Marawi.
The military on Thursday said around 50 to 70 Maute extremists are still holed up in the besieged city.
Fighting between government forces and Maute extremists in Marawi City broke out on May 23 and has left at least 674 dead, among them 513 terrorists, 116 state forces, and 45 civilians.
http://news.abs-cbn.com/news/08/05/17/more-intense-firefights-as-marawi-siege-nears-end-ao