From the Philippine Star (Jul 10):
Soldiers wounded in Kalinga clashes with NPA get medals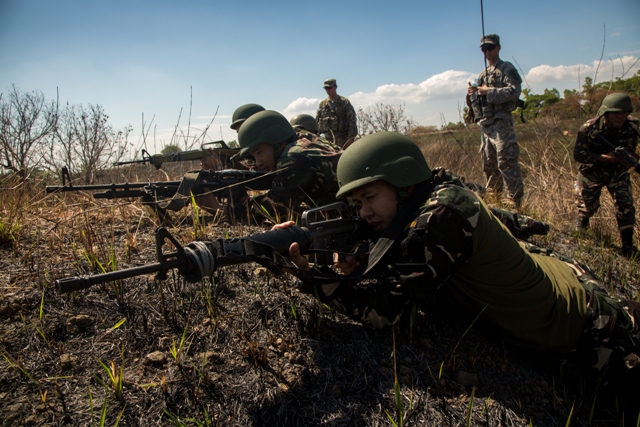 Members of the Philippine Army during a training exercise in 2015. US Army/Steven Hitchcock/Released, file
Four soldiers from the Philippine Army's 5th Infantry Division were awarded with wounded personnel medals at their hospital beds in Camp dela Cruz in Upi, Gamu, Isabela.
Major Gen. Paul Atal, commanding general of the 5th ID and Joint Task Force "Tala",

awarded the medals as well as grocery items and P5,000 cash from the "Star Trooper Active Relief Fund" to Sergeant Joselito Felipe from Isabela; PFC John Cris Dangatag from Kalinga, PFC Richard Panga-or from Mt Province and Pvt. Henry Camatcho from Isabela.
On July 4, soldiers from the 50th Infantry Battalion fought with around 20 communist guerillas in a village in Pasil, Kalinga. Several hours before the firefight, another armed encounter occurred in Pinukpuk town, also in Kalinga where a Cal. 30 US carbine, two magazines and four homemade landmines were seized after the rebels withdrew.
Atal hailed the extraordinary courage the four soldiers and their unit showed in the skirmishes with the NPA. "Kayo ay mga bayani na dapat tularan. Ang pagkakasugat ninyo sa digmaan, ay maging hamon sana sa inyo na mas lalo pang gampanan ang inyong tungkulin sa paglilingkod sa bayan" he said.
Soldiers are still pursuing the rebels in the remote hinterlands of Pinukpuk and Pasil, Atal said.