From ABS-CBN (Jul 11):
4 men from Marawi barred from leaving Philippines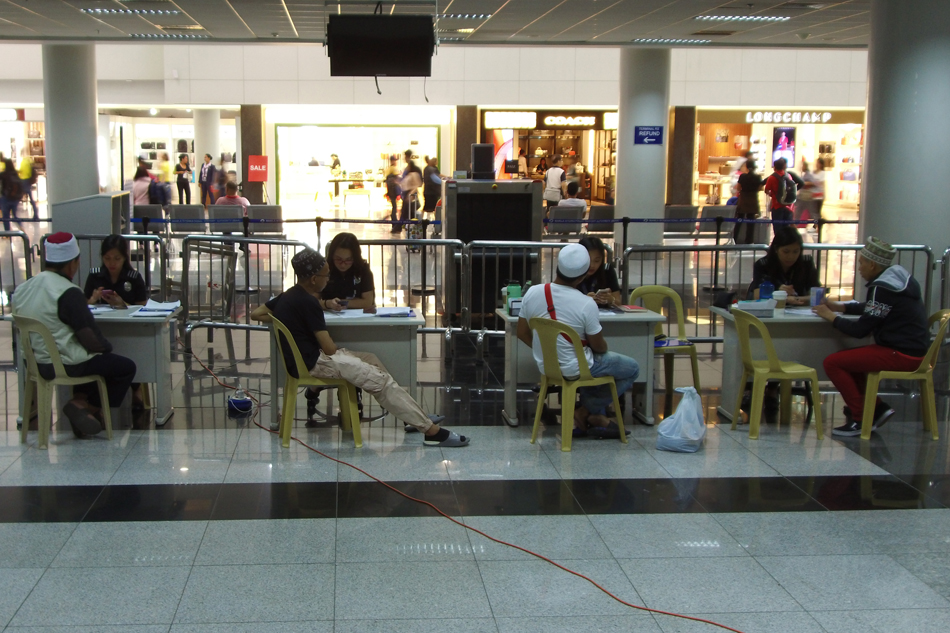 Photo by Raoul Esperas
Four Pakistan-bound men from Marawi City were barred from leaving the Philippines on Monday afternoon at the Ninoy Aquino International Airport Terminal 3.
The four passengers were scheduled to depart for Kuala Lumpur, Malaysia, on board a commercial flight when immigration officers noticed newly issued Pakistani visas on their passports.
Initial information gathered by ABS-CBN News showed that the men are all from Marawi City and claimed to be vacation-bound for Malaysia. The incident was almost the same time as 7 other passengers suspected to be related to the Maute clan were intercepted at NAIA on Monday afternoon.
The four passengers said they are tourists bound for a vacation in Malaysia but they failed to show their travel itinerary.
The four men also failed to produce airline onward tickets to Pakistan from Malaysia.
Red Narinas, head of the immigration port operations division, said
that as standard operations procedure, all passengers with questionable itineraries as tourists, are subjected to a secondary interview.
All the four passengers failed the secondary interview and were not allowed to board their plane to Kuala Lumpur.
Marinas also informed other law enforcers at the airport on the identity of the 4 passengers but in the absence of a written derogatory information, authorities only imposed an offloading.
http://news.abs-cbn.com/news/07/10/17/4-men-from-marawi-barred-from-leaving-philippines