From the Philippine Star (Jun 8):
Editorial: EDITORIAL - The Maute money trail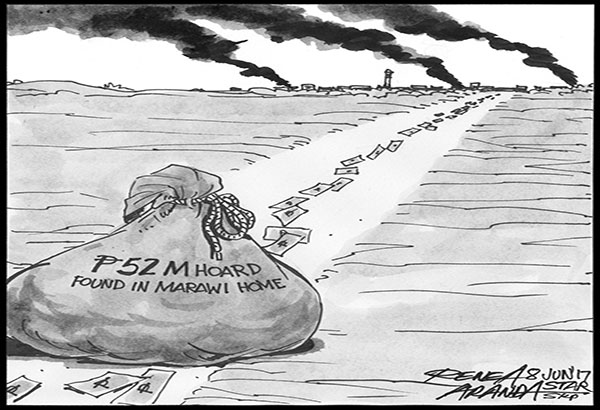 Maybe there are people who feel more comfortable keeping P52 million in cash at home rather than in a bank where it can earn interest. Maybe the owner of the cash, said to be a contractor, needs a lot of cash on hand constantly to pay for various goods and services.
Obviously, tracing the owner is the best way to find out if there is a legitimate reason for P52 million in cold cash to be lying around in a house in Marawi. Marine forces found the cash, neatly packed, in a house reportedly owned by the patriarch of the Maute clan, Cayamora Maute. But he denied owning the cash, which was reportedly guarded by a sniper and a machine gun nest.
As of yesterday, no one engaged in legitimate business had come forward to claim the cash plus checks for P27 million. So the government will have to conduct its own sleuthing. The cash provides a windfall for those trying to find out the sources of funding and other logistics needed by any terrorist organization – especially one that can mount a siege on Marawi City.
The cash and checks bear serial numbers that authorities should be able to trace in the banking system. President Duterte had previously expressed suspicion that certain local politicians and clans were supporting the Maute and Abu Sayyaf groups in Mindanao. The seizure of that pile of cash and checks should help prove his suspicion.
The Mautes and Abu Sayyaf need an enormous amount of funds for guns and ammunition alone. "Crushing" the terrorists, as ordered by the President, must include dismantling its support network. Following the money trail should be as relentless as the military offensive against the terrorists. The cash offers an opportunity to uncover terrorist financing. The opportunity must not go to waste.
http://www.philstar.com/opinion/2017/06/08/1707807/editorial-maute-money-trail