From the Jakarta Post (Apr 26):
Indonesian militants can 'easily' enter Philippines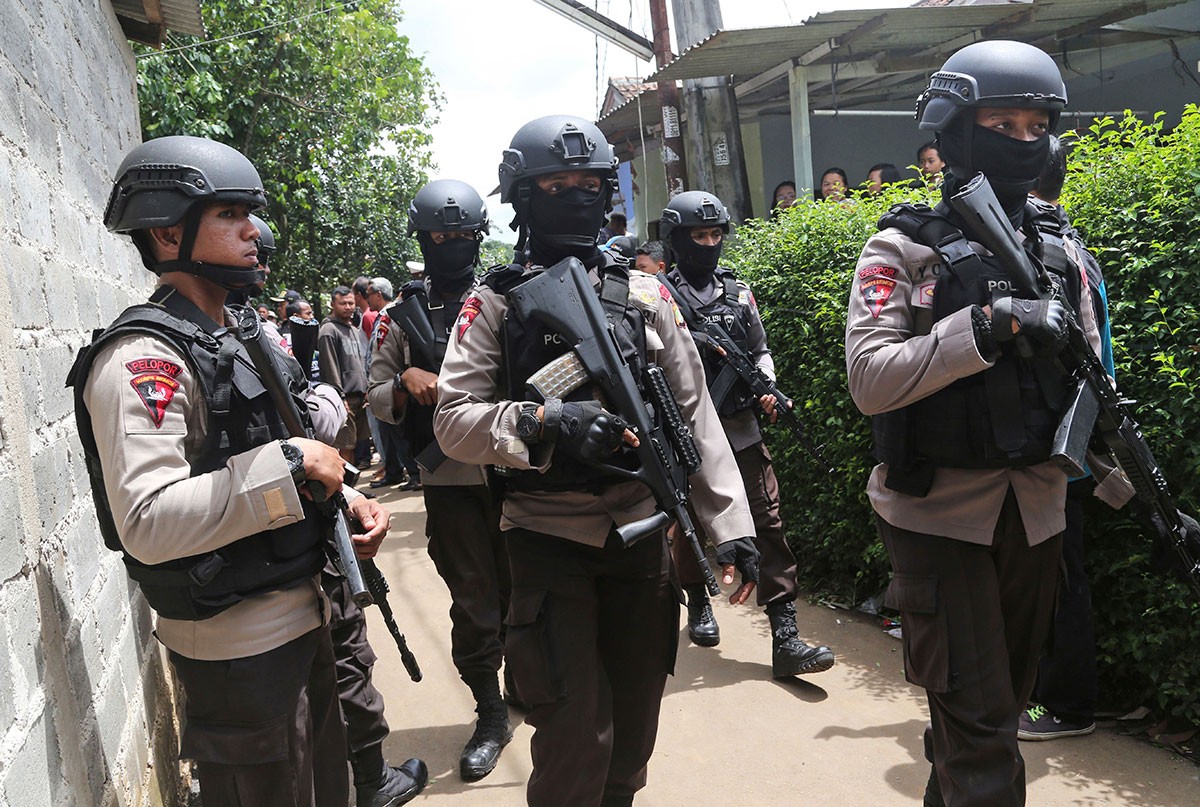 Police officers stand guard at a residential neighborhood where police conducted a raid on a house used by suspected militants, in Tangerang, Indonesia Wednesday, Dec. 21, 2016. Indonesian police said three suspected militants who were planning a holiday season suicide bombing were killed in the raid Wednesday on the outskirts of Jakarta in the second imminent attack to be foiled in less than two weeks. (AP/Tatan Syuflana)
The discovery of an Indonesian passport by local authorities during a recent terrorism crackdown in the southern Philippines has raised concerns about intensifying coordination between Indonesian militants and the Abu Sayyaf group, the leading pro-Islamic State (IS) group in the region.
With resources to guard border areas limited, militants can easily enter Abu Sayyaf's territory in the Philippines.
Directorate General of Immigration spokesperson Agung Sampurno told The Jakarta Post on Tuesday that for years Indonesian militants and foreign fighters from the Philippines have traveled back and forth between the two countries using traditional sea routes due to a lack of personnel guarding waters in northern Sulawesi, which borders the Philippines.
The immigration office has two border check points — one in Miangas and another on Marore Island in North Sulawesi — that are used by local people in the region as entry points to Balut and Tibanban islands in the southern Philippines.
However, Agung said, the checkpoints could not effectively prevent Indonesian militants entering the Philippines as locals can visit their relatives in Mindanau, in the southern Philippines, with only a border pass and not a passport.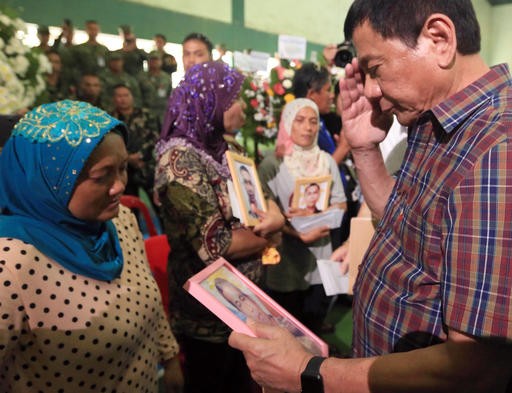 In this Wednesday, Aug. 31, 2016 photo released by Presidential Photographers Division, Philippine President Rodrigo Duterte, right, salutes the portrait of one of 15 soldiers killed in Monday's gunbattle with Muslim Abu Sayyaf militants during his visit to Western Mindanao Command in Zamboanga city in southern Philippines. Abu Sayyaf extremists killed 15 Philippine Army soldiers in fierce fighting Monday in the country's restive southern island of Jolo, dealing the government its largest single-day combat loss under President Duterte, who ordered the militants to be crushed for their brutality. (Presidential Photographers Division via AP)/Rey Baniquet)
Historically, Mindanau was part of the Tidore Sultanate in the Maluku Islands located in the eastern part of Indonesia. "They [foreign fighters] used the two hubs to enter Indonesia and it is already public knowledge that they went to Poso [in Central Sulawesi to join the East Indonesia Mujahidin terrorist group]. They also smuggle weapons via these hubs," Agung told The Jakarta Post on Tuesday.
Agung said the Directorate General of Immigration had dispatched a team to Davao to identify the Indonesian passport found by military officers during a military campaign to bombard Abu Sayyaf and Maute terrorist groups in Piagapo town in the southern Philippines that reportedly killed 30 terrorists on Saturday morning.
Philippine authorities told Reuters they believe Indonesian and Malaysian militants might have been with the groups.
"It is difficult to access the area because it is heavily guarded by the military. We will coordinate with local police and military officials to identify the owner of the passport,"
Agung said.
National Terrorism Agency (BNPT) prevention division head Hamidin

said the southern Philippines had been used by IS to gather militants from Southeast Asian countries, including Indonesia, to carry out terrorist training.
"Aside from Indonesia, there are fighters from Malaysia, Bangladesh and other countries in Southeast Asia attending training in the southern Philippines,"
Hamidin told the Post.
The designation of the southern Philippines as an IS stronghold in Southeast Asia came after the Abu Sayyaf terrorist group pledged allegiance to IS.
Hamidin added that it was difficult to track the exact number of Indonesian jihadists attending training in the southern Philippines because they cross the border illegally.
The official said the free visa policy among ASEAN country members had provided a way for fighters in the region to freely enter the Philippines without any disruption. "All activities of IS-related groups in Southeast Asia are centered in the southern Philippines," Hamidin said.
Earlier, the National Police said local terrorist groups in Indonesia were planning to build a military camp in Halmahera, North Maluku, due to its close proximity to the southern Philippines.
Experts said local militants chose Halmahera because it was a remote area reachable only by boat and was easier for them to access small islands in the southern Philippines where they would carry out military training with other foreign fighters in the region.
http://www.thejakartapost.com/news/2017/04/26/indonesian-militants-can-easily-enter-philippines-.html