From the Philippine Star (Nov 20):
Duterte to align foreign policy toward China-led Asian economic development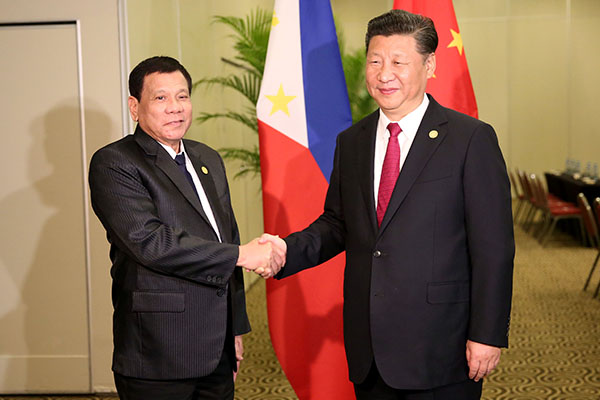 President Rodrigo Duterte and Chinese President Xi Jinping greet each during a bilateral meeting at the sidelines of the Asia-Pacific Economic Cooperation (APEC) Leaders' Summit in Lima, Peru on November 19. REY BANIQUET/ Presidential Photo
President Rodrigo Duterte said Sunday (Manila time) he would adopt a foreign policy that veers towards a China-led regional development in a pronouncement that highlights Manila's pivot towards Beijing amid its rocky relationship with its traditional ally Washington.
"I have given you my word, we will cooperate with you,"
Duterte told China President Xi Jinping during their bilateral meeting on the sidelines of the Asia-Pacific Economic Cooperation (APEC) summit in Peru.
"I said, with my thrust of an independent foreign policy, we will find ourselves mutually agreeing in so many things and align our foreign policy towards the development of Asia, strengthening of ties among the countries in the region, with China leading the way in the economic development,"
he added.
The Philippines, which towed the line of the United States (US) during previous administrations, is now seeking closer ties with China following a rift between Duterte and American officials over his aggressive campaign against illegal drugs.
The White House has called out Duterte for the spate of killings tied to his anti-drug war and has asked him to make sure that human rights are upheld in all law enforcement operations. Duterte responded by accusing the US of hypocrisy, citing the alleged discrimination against African-Americans and the atrocities committed by American troops against Muslim Filipinos during the 20th century.
During his visit to Beijing last month, Duterte declared that he would be "separating" from the US in terms of security and the economy. Officials clarified though that the Philippines is not cutting ties with US but is just pursuing a more independent foreign policy "where the national interest is paramount."
In the same meeting, Duterte told Xi that his
four-day state visit to Beijing
last month "opened a new chapter in the Philippine-China relations" and signified the need to "fast-track mutually beneficial areas of cooperation."
"Though it was a short visit, it has produced a lot of goodwill in my country and we hope to remain a good friend of China," he added.
Duterte also invited Xi to visit the Philippines at a mutually agreeable date. Xi accepted the invitation.
Philippine Foreign Affairs Secretary Perfecto Yasay Jr. said the purpose of the meeting was to follow through on the memoranda of understanding (MOUs) signed during Duterte's state visit.
Thirteen bilateral agreements covering a wide range of areas including trade, tourism, agriculture, security, health and infrastructure were signed during the visit.

"I'm very happy to report that we are on track on this one. We will be pushing for now a more vigorous talks for the purpose of implementation the broad strokes that we have arrived at when we signed the MOUs," Yasay said
"These are things we are looking forward to. We're very happy that China is as enthusiastic as the Philippines in making sure that the trade and economic relationships that we would like to foster would be fast tracked," he added.
South China Sea row
Yasay said Duterte and Xi also talked about the South China Sea dispute, with the Chinese leader guaranteeing Filipino fishermen access to the Panatag (Scarborough) Shoal.
"We spoke a little bit about the South China Sea disputes not for the purpose of resolving them now but I think most of the conversation along that line was an expression of good will,"
Yasay said.
"We have the assurance, we have not asked for it but this is a voluntary act on the part of the Chinese that fishermen will continue to be having free access to their traditional fishing grounds,"
he added.
Panatag Shoal is located 124 nautical miles off Zambales and is within the Philippines' exclusive economic zone. China started occupying the shoal in 2012 when it prevented the Philippine Navy from arresting Chinese poachers who harvested endangered species.
Yasay said China reiterated its offer to train Filipino fishermen on the culturing of fishes to support their livelihood.
"We also had made sure that any actions that would be taken by us will be precisely to just simply promote our interests in the area of jurisdiction. Territorial ownership and sovereignty will be set aside in the meantime until a solution is in sight in the future,"
Yasay said.
Duterte upbeat on Philippine-China ties
Yasay said Duterte is "very optimistic" about the prospects of the relationship between the Philippines and China.
"We have instructions from the president to also move forward fast on this and incidentally, the agricultural aspect, sector of our relationship will be pushed through. China has indicated an intention to really beef up their importation of agricultural products particularly in the area of fruits," he said.
"They also mentioned the lifting of the ban of tourists coming over and we expect in the few weeks a marked increase in tourists coming from China."
Yasay said Xi also invited Duterte to attend the BRICS (Brazil, Russia, India, China and South Africa) conference in September 2017.
"That will involve the BRICS countries but he (Xi) personally asked the president to be a participant in that very important conference because of the ASEAN (Association of Southeast Asian Nations summit) that is going to be hosted by the president of the Philippines in 2017," the foreign affairs chief said.