From the Philippine Star (Apr 22):
Farmers block Koronadal City to demand for relief subsidies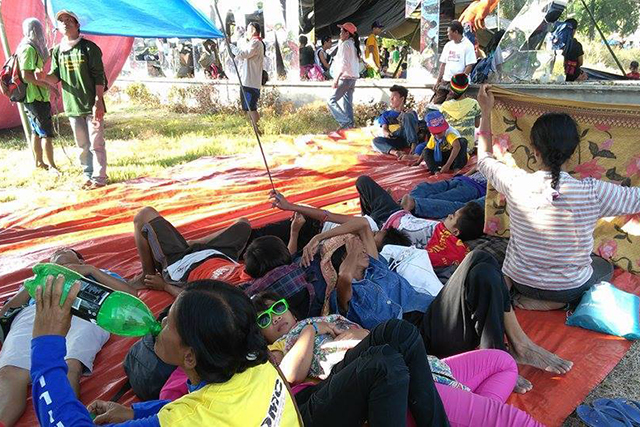 Peasants from across South Cotabato province now picketing at the surroundings of the regional office in Koronadal City of the Department of Agriculture to demand food subsidies. Courtesy of the Notre Dame Broadcasting Corporation
Some 2,000 peasants on Monday picketed around the office of the Department of Agriculture (DA) in Koronadal City to demand for food rations to mitigate heavy crop losses due to the continuing drought.
The picketers first converged on Thursday night at one side of the national highway in Barangay Carpenter Hills south of Koronadal City and, subsequently, marched early Friday towards the city proper and established makeshift shelters in the periphery of DA's Region 12 office there.
Policemen were immediately deployed in strategic spots around the areas where the farmers, many of them carrying placards bearing appeals for relief subsidies, positioned themselves.
More policemen trained in crowd control have also been fielded in the surroundings of the warehouse in Koronadal City of the National Food Authority to prevent possible intrusion by picketers.
"This could be a sequel of the Kidapawan City picket almost two weeks ago unfolding," said an employee of another government agency whose office is located in a building nearby.
The groups from drought-stricken North Cotabato towns that picketed at Kidapawan, to dramatize their bid for government interventions in cushioning the impact of the dry spell since late November, blocked stretches of the Cotabato-Davao Highway for five days, prompting the police to disperse them in an operation that went haywire.
At least three farmers were reportedly killed in the incident, which also left more than 50 picketers and policemen injured.
Local officials in Koronadal City had called on the farmers now surrounding the DA-12 office not to resort to violence and agree to a peaceful dialogue with representatives of agencies that can help them.
http://www.philstar.com/nation/2016/04/22/1575661/farmers-block-koronadal-city-demand-relief-subsidies