From GMA News (Jul 28):
Freedom's face won't blur, art exhibit shows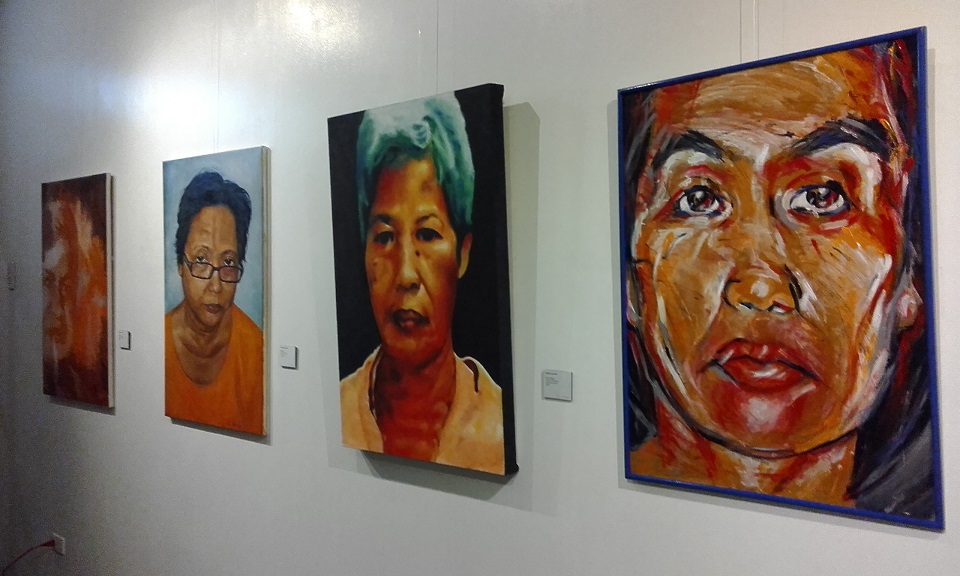 Some of the portraits on exhibit at 'PortrAYAL'.
"As art objects, portraits have traditionally been visualisations of the so-called ruling elite: objects denoting prestige, power and patronage; displays of individual stature and status, denoting the capacity to commission and consume," said Lisa Ito, a lecturer at the Department of Theory, College of Fine Arts, University of the Philippines, Diliman.
This trend in the creative arts sector was interrupted by the launching of "PORTRAYAL: Faces of Freedom" art exhibit on July 24 at the Maximillian Gallery on Scout Madriñan in Quezon City.
The exhibition, organized by human rights groups Karapatan and Selda, displays 55 portraits of some political prisoners in the country, created by renowned local artists using various kinds of artistic media.
"Portrayal connects with previous artistic interventions in its aspiration to help set free the stories behind statistics on human rights violations in the Philippines.The process of linking both artist and detainee is a challenging and negotiated act of empathy: of venturing beyond fidelity to the visage and distilling their stories to the viewer. In instances where it was not possible to directly visit and meet the subject, the artists had to rely on secondhand information to produce the portraits: mug shots, I.D. photos, archival testimonies, case reports, and recollected memories, for instance," explained Ito, who is also the curator of the exhibit.
Among the 537 documented political prisoners are National Democratic Front of the Philippines (NDFP) peace consultant Alan Jazmines and Eduardo Sarmiento, who are also visual artists and writers.
Jazmines was arrested on February 14, 2011, just a few hours before the resumption of the long-stalled peace talks, and despite the assertion of the Joint Agreement on Security and Immunity Guarantees (JASIG). His image is depicted in a painting by former UP Fine Arts Dean Leonilo "Neil" Doloricon. Doloricon is a recipient of the Thirteen Artists Award of the Cultural Center of the Philippines and of Manila's Patnubay ng Sining at Kalinangan Award.
In February 2009, Sarmiento was abducted by five men in plainclothes while walking along Star Mall in Alabang, Muntinlupa City. On December 11, 2013, Ka Edong was sentenced to reclusion perpetua and is now detained at the maximum security unit of the New Bilibid Prison in Muntinlupa. Art teacher and CAP member Renan Ortiz rendered an image of Sarmiento. Ortiz is also among the 2012 Thirteen Artists Awardees of the Cultural Center of the Philippines.
Free ALL Political Prisoners
added a new photo — with

Deogracias S. Iniguez

and 21 others.
Cause · 1,804 Likes July 19 at 1:10am
41 Likes · 1 Comment · 14 Shares
Free ALL Political Prisoners
with Linangan Ng Kulturang Pilipino and 30 others
Cause · 1,804 Likes

July 19 at 7:07am

·
45 Likes · 1 Comment · 4 Shares
"This diverse sourcing of images for visualizing the political detainee has yielded portrayals that convey not only the psychological weight of their stories but also the detainees' prevailing sense of optimism and resolve amidst the odds they face. It is this spirit of resilience which remains unshackled and unrestrained, moving across and beyond the confines of prison space," said Ito.
Among the artists who participated in the exhibit are Dhan Louie Bautista, poet Rustum Casia, musician Maan De Loyola, cartoonist Bheng Densing, graphic artist Emil Mercado, Rensi Managase of UGATLahi Artists Collective, Ding Royales, Palanca awardee Aleli Dew Ayroso, father and son poets Jesus Manuel Santiago and Daniw Santiago, Arnie Jarabilo, Yasmin Almonte of Kasibulan, Gwen Bautista, James Hermogenes, graphic artists Cristina Ponce and Lorraine Bermejo, art conservator Eden Ocampo of Kasibulan, Jamica Lois Bonifacio, feminist Mylene Foronda Factora, musician and Concerned Artists of the Philippines member Boy Dominguez, Crisanto de Leon of UGATLahi Artists Collective, multi-awarded artist and sculptor Egai Talusan Fernandez, Melvin Pollero, Bryan Pollero, illustrator Oji Valencia, Adelson Genito, graphic artist Jason Valenzuela, former political prisoner Ericson Acosta, street artist Sim Tolentino, multi-awarded artist Buen Abrigo, 2009 CCP Thirteen Artists Awardee Iggy Rodriguez, Jade Alfonso, performance artist Racquel de Loyola, Yani Ela of Kataga Quezon City, Bayan-NCR artist Aldrein Silanga, installation artist Emil Yap, graphic artist and Karapatan volunteer Tom Estrera III, illustrator Stephen Prestado, trade union activist Rose Bucud, cultural worker Ranma Ramones, Manila Today's Max Santiago, US-based Filipino illustrator Enrico Maniago, Charlene Bayani, illustrators Glenda Maye Abad and Tinsley Garanchon of Kasibulan, street artists collective Gerilya, Pedro Bucud, Kasibulan President Vivian Nocum Limpin, Kasibulan secretary Doris Rodriguez, and Linangan ng Kulturang Pilipino.
GMA News
Online
cartoonist Manix Abrera made a digital print portrait of Edward Lanzanas. The latter was arrested with the daughter of Gregorio "Ka Roger" Rosal.
Relatives of political prisoners led by Nikki Gamara, daughter of political prisoner Renante Gamara, and Amado Cadano, father of political prisoner Guiller "Guilly" Cadano, imparted a few words at the launching.
Sarmiento's collection of children's short stories was also on display.
The exhibit ran for two days but the artworks are set for display at the House of Representatives in August. Afterwards, they will be brought to schools and galleries in and outside of Metro Manila.