From the Philippine Star (Feb 4):
AFP report on Mamasapano clash now confidential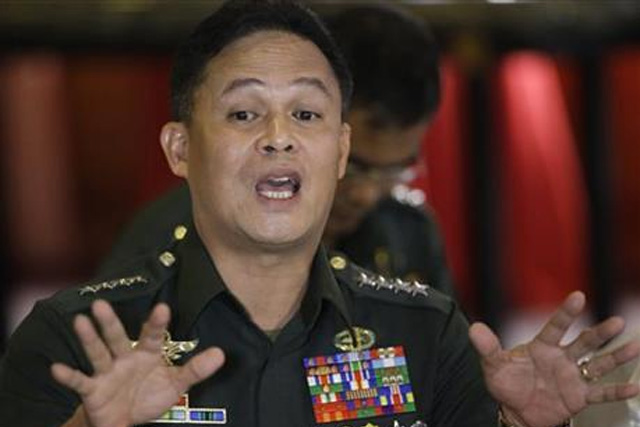 Armed Forces of the Philippines chief Gen. Gregorio Catapang Jr. File photo
A day after the military vowed transparency on its probe on the Mamasapano clash, Armed Forces of the Philippines chief Gen. Gregorio Catapang Jr. said the report of their fact-finding committee on the encounter has been made "confidential."
Catapang said the Philippine National Police Board of Inquiry would be the one to declassify the report, which dealt with the Army's actions during the gun battle.
"I think this report is confidential. That's why we are here to tell you what really transpired just to keep the public informed on how come the armed forces were not able to immediately respond to the call for reinforcement," he said in a press conference on Wednesday.
Catapang said the report has also been submitted to President Aquino.
The military fact-finding committee report said the Army had provided enough assistance to Special Action Force (SAF) members who clashed with members of the Moro Islamic Liberation Front (MILF) in Mamasapano, Maguindanao.
Army ground commanders should not be blamed for the delayed deployment of reinforcements to the beleaguered police commandos, the committee said.
According to the committee report, the Army's 6th division formed a quick reaction force and started supporting the SAF at 6 a.m. or an hour after being informed of the encounter. The assistance was extended until the early morning of January 26, when surviving SAF members were brought out of the encounter site, the committee report said.
On Tuesday, Armed Forces spokesman Col. Restituto Padilla said the full report of the fact-finding committee would be released to the public in the spirit of transparency.
The military, however, changed its tune when Catapang said that only the chronology of events would be distributed to the media.
"I think we have to respect the board of inquiry. They will be the one to declassify it because this report is considered confidential," the military chief said.
Catapang insisted that they are not hiding anything about the bloody encounter, which claimed the lives of 44 SAF commandos.
"We are not hiding something. We are telling you what happened. This is the report, the chronology of events," he said.
"This is something that has to be submitted to the Board of Inquiry and we will not publish it in as much as this is a confidential report to the board of inquiry," he added.
http://www.philstar.com/headlines/2015/02/04/1420120/afp-report-mamasapano-clash-now-confidential