From Rappler (Sep 21):
Soldiers now see remaining rebels in Zambo crisis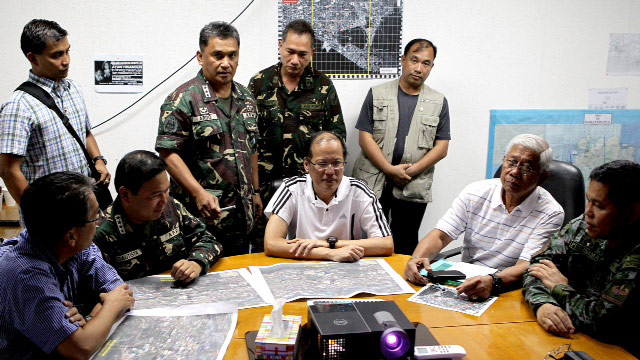 It is now a close quarter battle. The standoff between government troops and the Moro National Liberation Front (MNLF) has dragged on to its 13th day but soldiers and the rebels now "see each other."
Five MNLF members were killed on Saturday, September 21, while 7 soldiers were wounded.
"We have tightened the noose," said Armed Forces public affairs chief Lt Col Ramon Zagala. He said the soldiers are about 50 meters away from the location of the rebels.
"We are more confident now to say how many MNLF Misuari Breakaway Group are there. There are 40 of them," he said.
Zagala said Commander Habier Malik is among them.
The problem is they are still holding hostages. "We're focused on saving the hostages," Zagala said.
Barangays outside the battle zone are slowly going back to normal. But residents are still terrorized.
A suspected mortar explosion in barangay Tetuan killed an elderly woman Thursday morning.
Military data as of 12 noon Saturday shows a total of 123 people died in the standoff: 10 soldiers, 3 cops, 12 civilians, and 98 rebels.
A total of 174 hostages were rescued.
[Video: VLOG: Explosion kills a volunteer in Zamboanga City http://www.youtube.com/watch?v=_p-daM_1UjY]
http://www.rappler.com/nation/39497-soldiers-remaining-rebels-zamboanga-crisis