From GMA News (Sep 18):
Malik in his element
Editor's note: Since leading over a hundred gunmen in an attack on Zamboanga City, MNLF commander Habier Malik has remained an invisible figure, directing his men from unknown quarters but unseen and unheard by the public. He has not been interviewed since the crisis began, but GMA News reporter Chino Gaston once did, in a jungle in Sulu in 2005. He recalls a fearsome figure who wore strong cologne, kissed comrades on both cheeks, and said he was prepared to die for his beliefs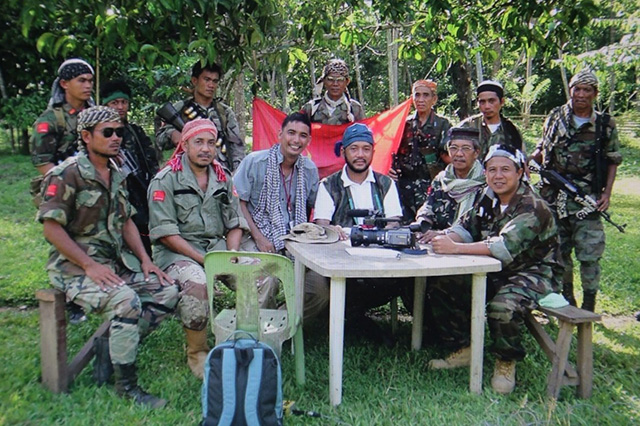 Author Chino Gaston (seated, 3rd from left) with Habier Malik (seated, 3rd from right with blue head cover) in 2005.
I had sought out Commander Habier Malik in the jungles of Sulu in 2005 to confirm allegations that the MNLF was aiding the Abu Sayyaf. There was already speculation back then that the MNLF had struck an alliance with the terrorist group.
The man was a picture of stern indifference when I shook his large hands and introduced myself as a journalist from ABC-5 (my former employer). His light brown, almost gray eyes hovered warily over me, but there was no hint of emotion on his heavily bearded face.
There was power in the broad shoulders and the squat, stocky frame, clad in US-made, seven-color fatigues. On his head he wore a black and white checkered turban. On his feet were desert-tan combat boots.
Up close I could smell his strong cologne and a mix of cinammon, incense, and perhaps, gunpowder.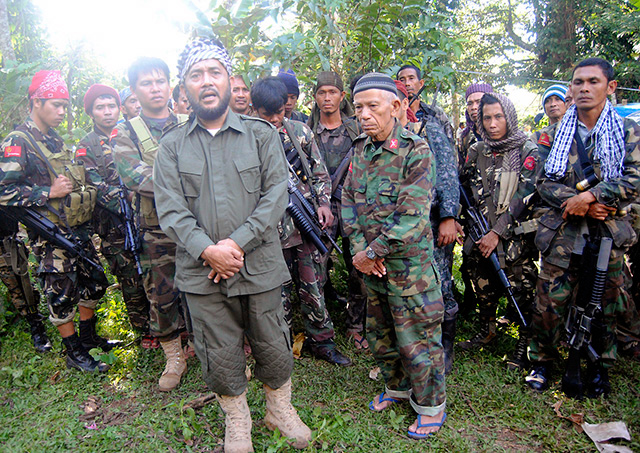 In this file photo taken on February 5, 2013, Moro National Liberation Front (MNLF) commander Khabir Malik (front left) gathers his fighters at their camp in Jolo, Sulu, after clashes with Abu Sayyaf bandits. Malik's group tried to rescue a kidnapped Jordanian journalist from the ASG. Reuters/File
He moved like a tank, ponderous in form but deadly. He did not carry a gun inside his camp, but a short kris hung from his waist. Behind him, an aide carried what looked like Malik's rifle, an AK-47.
My cameraman Ed De Guzman also shook the MNLF commander's hand but his voice
cracked when he tried to speak. It was easy to feel fear around this man who personally led
his men into battle, oftentimes against incredible odds.
A week earlier, Malik and his men used two passenger jeepneys and directly assaulted
and burned a Philippine Marine detachment, in what he said was a reprisal for the death of a three-year-old child who had been killed by mortar used by the soldiers.
I still remember that first handshake and Malik's thick, powerful fingers. His grip was strong and short, a quality no doubt reserved for strangers like me. But he broke into a wide smile when his eyes shifted to the man who had brought me to his stronghold.
"Assalamu alaikum," Malik greeted the man, embracing him and planting two kisses on either cheek.
After a brief exchange of pleasantries in Tausug, my contact fished out two satellite phone prepaid cards and gave it to Malik and the other MNLF personality there, the late Julambri Misuari, the nephew of MNLF chairman Nur Misuari. Next to the imposing visage of Malik, Julambri's status as then MNLF Island Commander of Jolo was just a title written on a piece of paper.
We were served native coffee and the strangely shaped snakelike pastries popular in Sulu. Malik sat and listened to my intermediary rattle off the recent happenings in Jolo. But from time to time he would fix those penetrating, searching eyes on me.
Behind Malik, a trio of jet-black 80-mm mortars glistened in the sun.
Guarding the mortars was a group of young men, carrying mostly M-16 rifles. One or two carried AK-47s. One turbaned warrior was sitting coolly in the shade of the house, his anti-tank rifle resting against a wall.
Some of the MNLF fighters posed gamely for our cameras and even made me carry one of their grenade launchers. Most of the men at the perimeter of the camp were young and eager to know, like most young men, about movie stars and whether there were lots of pretty girls in the city.
The inner circle surrounding Malik, however, was a group of dark, brooding men in their late forties and early fifties. They carried the best guns in the camp and seemed to hang on to every word that Malik utters. The younger fighters reminded me of rascally lion cubs, the older MNLF, the older lions, stained red from the hunt.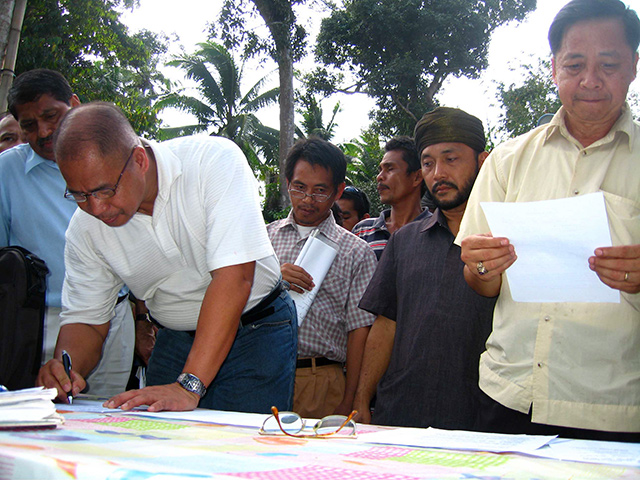 In this file photo taken on February 7, 2007, MNLF commander Ustadz Khabir Malik (in dark shirt) looks on as Marines Maj. Gen. Ben Dolorfino (left) signs a three page document detailing the agreements reached in their extended negotiations in Sulu.Raffy Tima/File
Loyalty to Misuari
When Malik agreed to be interviewed by me in 2005, a blood-red MNLF flag was stretched between two trees as background for the MNLF commander.
When asked to react to government reports that he was tolerating the atrocities of the Abu Sayyaf bandits, his eyes suddenly filled with rage. He slammed his hands on the table, upending my microphone and almost giving me and my cameraman a heart attack.
I heard a few rifle rounds being chambered behind me. I did not dare turn around to see for myself.
It took a few seconds for Malik to regain his composure. Then in a deep voice, he explained that although he shared the same blood and ethnicity with the notorious group, he believed in the teachings of Allah. Rape and kidnapping were haram or unholy.
"But if the military attack us here, of course we welcome the help of our Muslim brothers here with us in the mountains," he said in heavily accented, sing-song Tagalog.
I asked him if he ever regretted his loyalty to Nur Misuari, whose arrest in 2001 prompted followers like Malik to once again take up arms against the government.
Malik was a member of the board of the Southern Philippines Council for Peace and Development, the transitional body that oversaw the implementation of the 1996 Final Peace Agreement, when he led the MNLF attack on the Cabatangan complex in Zamboanga City that year.
"We are prepared to die for Allah and our beliefs. We have been betrayed by government," he said, his voice calm, even gentle.
Covering the current Zamboanga crisis, I could not help but wonder whether any of the weapons I saw in Malik's camp were being used against government troops. I wonder how many of the fighters I saw there had joined Malik, and were either dead or captured.
I also wondered whether Malik was using the prized AK-47 or some other gun.
http://www.gmanetwork.com/news/story/327042/news/specialreports/malik-in-his-element