From Rappler (Sep 21):
Hostaged priest: Still picking up the pieces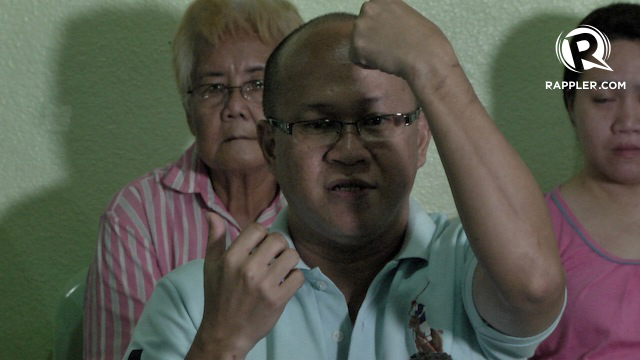 Eight days after his "release" on September 13, hostage priest Fr Michael Ufana is ready to face the public. But he admitted he is not okay and that it would probably take months before he could recover.
"I'm trying to pick up the pieces…I cannot say I'm good. I cannot say I'm fine. I'm still trying to cope," he told reporters in a press conference held after a very emotional Thanksgiving Mass.
The mass at the St Joseph Parish Saturday afternoon, September 21, was attended by former hostages and residents affected by the crisis.
"When I was in (the battle zone), I never thought that we will be freed," he told his parishioners, pausing several times during his homily as his eyes welled up.
He told reporters about his 5-day ordeal with the hostages, his friendship with Moro National Liberation Front (MNLF) commander Habier Malik, and the promise he was unable to keep.
Guns to his face
He also told reporters how paranoid he had become. The sound of a soft drink can being opened terrified him. A tap on any wooden structure had the same effect.
The scariest moment, he said, was when the rebels pointed their guns at him. Ufana said he did not know how the rebels knew he was a priest.
He was at his father's house in Sta Catalina when the followers of MNLF founder Nur Misuari attacked Zamboanga City. He said the rebels knocked on their gate and took them hostage.
"They were really angry at me. I don't know how come they [knew] that I am a priest. That is a question there. How come? They are from other places," Ufana said.
Ufana said the rebels used the hostages as human shields. He was put in the frontlines and he showed the bruises he got from the ropes the rebels used to tie him with the other hostages.
Malik's request for ambulance
Ufana said he was not released. He was allowed to leave the battle zone to bring the demands of Malik to the government — a ceasefire, an ambulance to bring wounded rebels and hostages to the hospital, and a "safe passage" meaning the rebels wanted to be able to go home in exchange for their release of the hostages.
Ufana said Malik allowed him to bring those demands to the government because he promised to go back. Malik, after all, was also holding his family.
Ufana left the battle zone on Friday, September 13. There was a temporary ceasefire but it was only during Ufana's "release." The ambulance did not come. The "safe passage" request was ignored.
READ: Rappler statement on the surrender in Zamboanga
READ: Zambo councilor-reporter involved in surrender speaks
Demand for another Cabatangan
On the same day that Ufana was released, the military had adjusted operations from "containment" to "calibrated response." The military started its offensive following the many fires that broke out that day.
Ufana said Malik wanted a repeat of the infamous 2001 Cabatangan siege, when the rebels marched from Cabatangan to military vessels prepared to let them escape the city and sail to their homes in nearby Sulu or Basilan.
It was done in exchange for the safety of hostages. But it was a move that split the city.
"
He (Malik) was asking for a written [agreement] so when they go they would not be touched. Everybody would be left behind, all hostages. With you (media) there to take their pictures, they know also they will not be touched," said Ufana.
Ufana said he agreed to relay Malik's message because he was only thinking about the safety of the hostages and of his family.
"My priority was the hostages and my family. I had no other interest," Ufana said.
Zamboanga City Mayor Maria Isabelle "Beng" Climaco has been firm, however, in saying that she doesn't want another Cabatangan. Climaco said she wants them jailed.
READ: Rebellion charges vs MNLF Misuari faction
But what Ufana regrets most, it seemed, was that he was unable to make good his word, particularly his promise to bring an ambulance to transport wounded hostages and rebels.
"When I was already at the Sangguniang Panlalawigan, I was asking for the ambulance to be brought to Ustadz Malik…. When you know that no one can help you anymore, the only thing you are going to do is to leave everything in the hands of God," he told reporters.
"I told the congressman and the mayor, I need to go home. I need to rest. I will leave it up to God," he added.
The friendship of Ufana and Malik
Ufana and Malik had become friends in the 5 days that the priest was captured. They talked a lot. Malik talked a lot and Ufana listened. They ate together.
"They told me, Father, they have forgotten us. The government has turned their back on us. They have forgotten the Tripoli agreement," Ufana narrated.
The government and the MNLF forged a peace pact in 1996. Misuari now opposes a new peace deal the government is negotiating with rival group Moro Islamic Liberation Front (MILF).
Malik, in a phone interview with Rappler, said the peace deal with the MILF should not sidestep the government's pact with the MNLF.
It was on Thursday night that Ufana offered to talk to Local Government Secretary Manuel "Mar" Roxas II to relay Malik's demands.
But Ufana said Roxas did not give him any attention. "I told Mar Roxas, He called me. I told him the demands but he did not give them attention. 'That is not my power. We will talk it over.' I just waited. I do not know how they decided," said Ufana.
Ufana was still able to talk to Malik over the phone on Friday when the MNLF commander told him, "
Father, nandito na naman sila
," despite the request for a ceasefire.
That was on the 5
th
day of the crisis. It's now approaching its 14
th
day.
http://www.rappler.com/nation/39511-hostaged-priest-picking-up-pieces