From GMA News (Jun 7):
Gas leak, not bomb, caused Two Serendra blast — Mar Roxas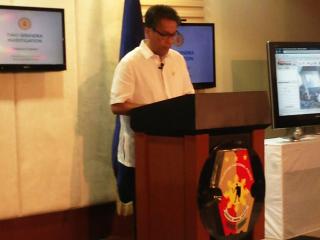 Interior and Local Govt. Sec. Mar Roxas said a bomb did not cause the explosion at Two Serendra condominium in Taguig City on May 31. The blast killed three people. Gian Geronimo, GMA News
A gas leak, and not a bomb, is the most likely cause of the May 31 explosion at the Two Serendra condominium building in Taguig City that
killed three people
, Interior Secretary Mar Roxas II announced Friday, citing a report from an interagency task force that investigated the incident.
"The explosion is most likely to have been caused by combustion or reaction of chemical substances," Roxas said. "In view with the foregoing, the blast was consistent with a gas explosion, most likely LPG (liquefied petroleum gas)."
The source of the gas leak, however, has yet to be determined and is the subject of an ongoing investigation, Roxas said.
"May mga teorya kung saan nangyari yung leak, pero 'di pa conclusive," he said. "Kaya mas mabuti na imbes na mag-speculate kami (ng) kung anu-ano na 'di kami nakakasiguro, mas mabuti masinop pero sigurado kaysa nagmamadali pero mali."
Roxas said no "unrealistic deadlines" would be imposed on investigators working to determine the leak's source. "Nakita naman po ninyo within the week masinop at kumpleto, exhaustive ang trabaho na isinagawa ng inyong mga imbestigador," he pointed out.
Dr. Carlos Primo David, who was among those tapped for the investigation, also said the explosion was consistent with the characteristics of a gas explosion, which are the following:
Minimal post-explosion residue
No blast cratering
Instantaneously dissipated flame
Minimal charring
Powerful and widespread pressure wave
Almost instantaneous explosion
Roxas made the announcement at a press briefing at Camp Crame, Quezon City on Friday, a week after the incident occurred.
'Person of interest' cleared
The result of the investigation virtually cleared Angelito San Juan, the person who rented the condominium unit where the blast took place, as it noted that there was nothing suspicious in his behavior hours leading to the incident.
"Di na kami gaano ka-interesado (sa kanya)," Roxas said, referring to the earlier
"person of interest"
tag on San Juan.
"Kung suspect siya, sasabihin kong suspect siya. Di ko sinabing suspect dahil 'di nga siya suspect," he added.
In an interview on GMA News TV's "News to Go" before Roxas' press conference, San Juan's legal counsel Raymond Fortun said he hopes his client will be cleared of any association with the blast.
"Hindi siya person of interest. Ang una kasing pumapasok sa isip ng tao kapag sinabing person of interest ay suspek. Lumiliit na yung tsansa na yung pagsabog ay dahil sa bombing. Kung hindi po ito bombing si Angelito San Juan ay hindi pwedeng maging bomber," he said.
"Basta sana ang lalabas sa resulta ng ibestigasyon ay ma-clear ang kliyente ko. Basta maging maayos ang imbestigasyon. Satisfactory and fair," he added.
Ayala Land
Roxas declined to answer questions on possible sanctions on Ayala Land Inc., the property developer of Two Serendra.
"I won't go into speculation," Roxas said. "I think right now all we are prepared to say is gas explosion ito. Kung bakit nangyari ito--negligence, incompetence, fraud o ano pa--'di pa namin sinasabi. Ang masasabi lang namin ay likely gas explosion."
There was no immediate reaction from Ayala Land Inc., the property developer of Two Serendra.
The results of the investigation confirmed the
eerie similarities
between the Serendra blast and the 2007 explosion in Glorietta Mall, another Ayala property, that killed 11 people.
A government fact-finding panel concluded in 2011 that the 2007 tragedy was caused by a methane gas leak, but Ayala insisted for years that it was a bomb, citing traces of the chemical compound RDX, a bomb ingredient. After dogs failed to sniff bomb traces in Serendra last weekend, probers are once again exploring the possibility of a gas leak.
Roxas, at Friday's briefing, said the conclusion was reached after the interagency task force conducted a probe which covered the following: K-9 unit walkthrough, Scene of the Crime Operatives (SOCO) probe, Southern Police District-Explosives and Ordnance Division (SPD-EOD), National Capital Region Police Office-EOD (NCRPO-EOD), Taguig police EOD, SOCO swabs, Bureau of Fire Protection (BFP) post-fire investigation, and National Bureau of Investigation EOD (NBI-EOD) post-blast investigation.
He noted that there was no presence of bomb residue in each method used to reach the conclusion.
A few days after the incident,
investigators had already been focusing on a possible problem in the building's centralized LPG piping system
as the cause of the powerful blast.
On June 1, Roxas said
K-9 units did not find any bomb traces
when they scoured the area.
At that time, however, he said investigators had not yet ruled out the possibility of a bomb as the cause of the explosion.