From Rappler (Apr 15):
Armed Forces of the Philippines gets $1.8-B more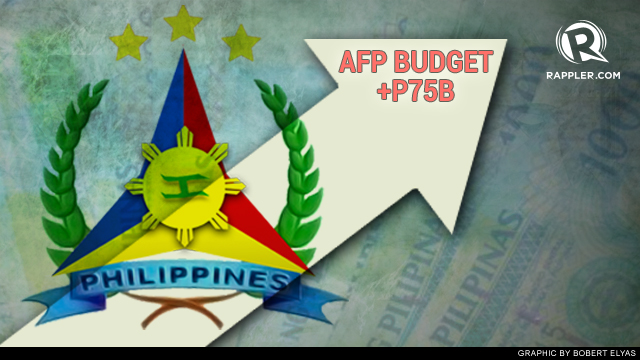 The Armed Forces of the Philippines gets P75 billion more (about $1.8 billion) to buy fighter aircraft, transport aircraft, helicopters, naval vessels and other equipment.



This is on top of the P28 billion (about $678 million) President Benigno Aquino released 3 years ago.

The defense allocation is part of Aquino's efforts to build a "minimum credible defense posture" as deterrent to any aggressive action against the Philippines.

The Philippines and other neighboring countries are engaged in disputes with China over the South China Sea (West Philippine Sea). Senate President Juan Ponce Enrile said the military budget is insufficient given the Philippines' security issues. He recommended allocating the biggest share of the national budget to defense instead of education. Under the Philippine Constitution, the government is mandated to give education the biggest budgetary share.

Defense expenditure under the Aquino government is almost 3 times bigger than the combined amount spent by the three previous administrations, with only P33 billion (about $800 million) spent during the past 15 years.