From Rappler (Jun 3, 2019):
Duterte certifies as urgent bill on mandatory ROTC
President Rodrigo Duterte certifies Senate Bill No. 2232 as urgent, saying mandatory ROTC for Grade 11 and 12 students is needed to 'invigorate' the youth's 'sense of nationalism'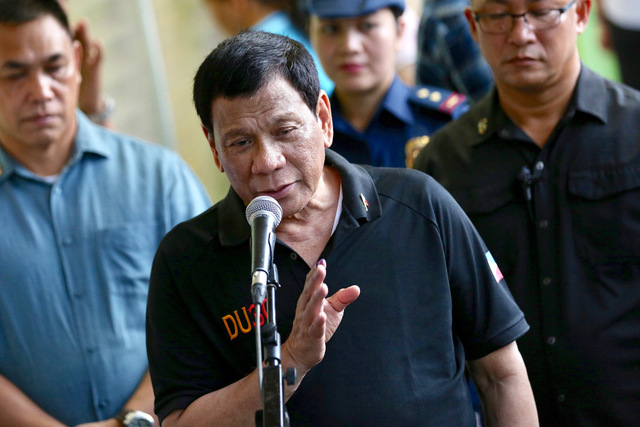 PRIORITY. President Rodrigo Duterte wants Grade 11 and 12 students to have ROTC training. Malacañang file photo
President Rodrigo Duterte certified as urgent a bill requiring Grade 11 and 12 students to undergo the Reserve Officers' Training Corps (ROTC) program.
Duterte certified as urgent Senate Bill No. 2232 on Monday, June 3, through a letter to Senate President Vicente Sotto III. A copy of the document with his certification was given to Rappler by the Presidential Legislative Liaison Office.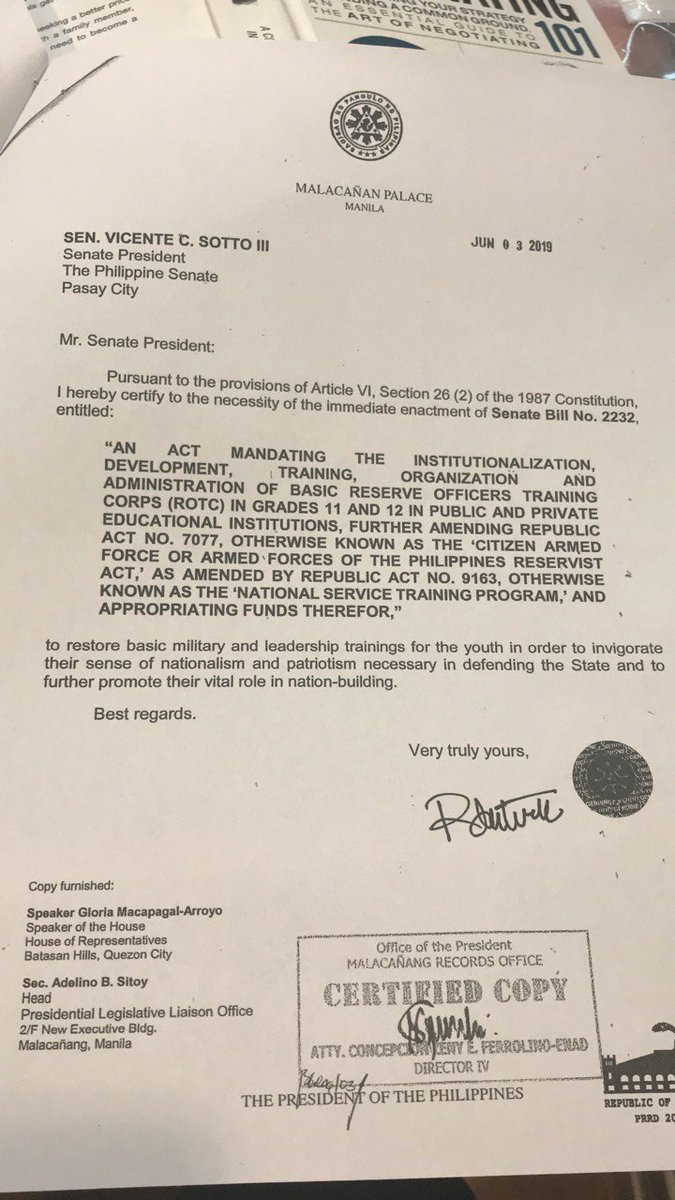 The Senate bill mandates the "institutionalizing, development, training, organization, and administration" of basic ROTC for Grades 11 and 12 in public and private educational institutions.
Duterte, in his letter, said a law is required to restore basic military and leadership training for the Filipino youth "to invigorate their sense of nationalism and patriotism necessary in defending the State and to further promote their role in nation-building."
Ironically, Duterte has often regaled audiences with
how he avoided ROTC training
during his days as a student.
The House of Representatives has already
passed its version
of the bill.
Duterte's certification allows the Senate to pass the bill on 2nd reading as well as 3rd and final reading on the same day.
Senate Bill No. 2232 is currently in the period of interpellations. Senator Sherwin Gatchalian sponsored it, while senators Richard Gordon and Manny Pacquiao are co-sponsors.
https://www.rappler.com/nation/232171-duterte-certifies-urgent-bill-mandatory-rotc