From Rappler (Sep 15):
Were 7 killed in Sulu encounter Abu Sayyaf or not?
Soldiers say it was an encounter, while a Moro rights group says it was a summary execution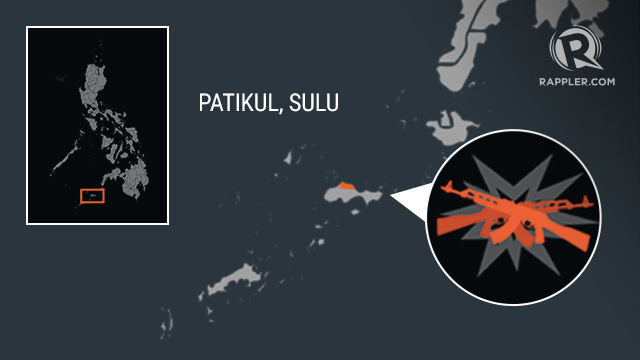 Seven alleged members of the terrorist group
Abu Sayyaf
were killed in an encounter on Friday, September 14, according to a report of
Joint Task Force Sulu
headed by Brigadier General Divino Rey Pabayo.

The number of dead was based on a body count, according to a press statement from Lieutenant Colonel Gerry Besana, public affairs officer of the Western Mindanao Command.

Six others were reported injured, including ASG Senior Leader Hatib Hajan Sawadjaan, who was said to be seriously hit in his stomach and lower extremities.
Miliary says they're terrorists: The same report said troops belonging to Task Group Panther led by Lieutenant Colonel Samuel Yunque, together with a group of scout rangers led by Captain Michael Asistores, got into an encounter with "more or less 100 fully armed" ASG members under senior leader Radullan Sahiron and sub leaders Hatib Hajan Sawadjaan and Idang Susukan in Barangay Bakong, Patikul, Sulu.
The group was conducting focused military operations when they encountered the alleged ASG, resulting in a firefight at around 1:30 pm Friday.
The statement said 17 soldiers were "slightly wounded" due to shrapnel.
Were they just civilians? According to Moro rights group
Suara Bangsamoro
, however, the alleged Abu Sayyaf combatants were actually civilians from a Tausug community.
"The seven victims of summary execution are from Barangay Tambang in Patikul, Sulu. They were all in their youth and were staying with their families in the evacuation camp in the coastal village of Igasan,"
Suara Bangsamoro national chairperson Jerome Aladdin Aba told Rappler in a text message.
Aba added that the combatants were merely gathering fruits and had been permitted by the military to go on their expedition outside the evacuation quarters.
Citing interviews executed by local Suara Bangsamoro members, Aba said the 7 were first captured alive by soldiers at around 12 noon on Friday and were dropped off lifeless at a police station at around 4 pm.
Suara Bangsamoro is already keeping names of the alleged Abu Sayyaf members they believe to be innocent youth. They declined permission to publish the list as the names are still being validated.
https://www.rappler.com/nation/212088-killed-in-sulu-encounter-abu-sayyaf-or-not