From the Philippine Star (Aug 2):
11 militants killed as troops close in on Maute positions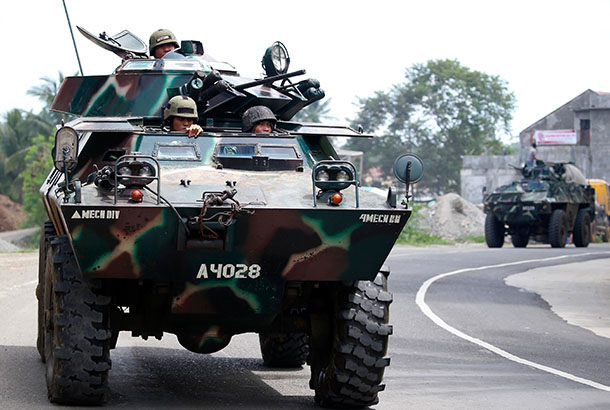 Government troops aboard their armored personnel carriers head to front line to continue their offensive against Muslim militants, in Marawi, southern Philippines Monday, May 29, 2017. AP Photo/Bullit Marquez, file
At least 11 members of the Islamic State-inspired Maute Group were killed as government forces closed in on a terrorist-controlled area in the commercial district of Marawi City.
The military said the fresh fatalities were a result of the assaults staged Tuesday.
Capt. Jo-Ann Petinglay, spokesperson of the military's Western Mindanao Command and Joint Task Force Marawi,
said those killed were part of the defenses deployed by the Maute Group
, which has laid siege to some parts of the capital of Lanao del Sur since May 23.
"The fresh fatalities was a result of the different encounters in the main battle area as our forces were drawing closer to the remaining occupied positions of the terrorists," Petinglay said.
Security forces have so far killed 502 terrorists since fighting in Marawi began.
Petinglay said no casualties have been reported on the government side in the latest assaults.
The government forces' casualty count remained at 114 soldiers and police officers killed. At least 45 civilians have also been killed since the fighting erupted in May.
"Our forces have adopted tactics as part of the force protection in the battleground," Petinglay said.
The military is optimistic ground forces are drawing closer to liberating Marawi from the Maute Group as troops continue to breach positions held by the militants.
Petinglay said ground forces continue to move in cautiously as the area has been heavily rigged with improvised explosive devices (IEDs) by the terrorists.
She said many of the IEDs have been detected, disarmed and recovered by advancing forces.