From The Freeman (Jun 25):
Philippines, US navies training exercise ends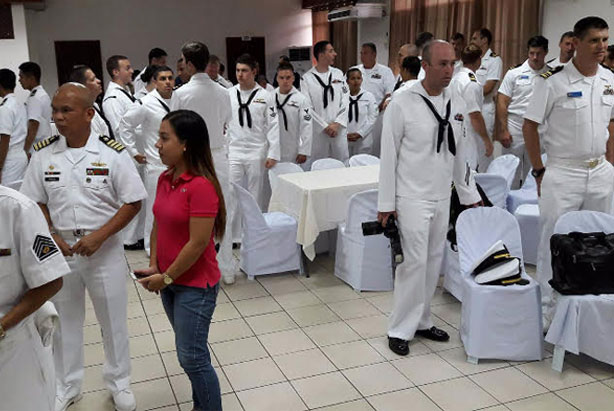 Philippine Navy and United States Navy troops gather for the closing ceremony of 'Sama Sama 2017' Maritime Training Activity at Naval Forces Central in Lapu-Lapu City yesterday. Joy Torrejos
'Sama-Sama 2017,' a maritime training activity between troops of the Philippine Navy and the United States Navy conducted at the Naval Forces Central in Lapu-Lapu City officially ended yesterday.
The training activity began on June 19 and involved exercises in rescue, medical response and maritime security.
Last Thursday, a simulation exercise of visit, board, and seizure (VBSS), a training on how to apprehend a vessel carrying illegal items and how to arrest the people behind the crime, took place in the waters off Bohol.
Rear Admiral Don Gabrielson, US Navy Task Force 73 commander, told reporters yesterday that the training is intended to deepen the relationship between the two navies.
"We worked on this exercise on boarding ships, we worked together on rescue to save lives, we work together on basic air defense capabilities, and we worked together on diving subject matter exchanges and other maritime security exchange of information, some cyber information and also on regular relationship-building that needs to happen in order to build and to deepen the trust in the relationship we already have," Gabrielson said.
Commodore Loumer Bernabe, commander of Naval Forces Central, said the training exercise with their US counterparts builds a strong foundation or an alliance for readiness to respond to any natural or man-made disasters.
"The strong point there is we continue to work together on same goal or objective that is making our region safe and secured as there are a lot of challenges happening," Bernabe added.
Bernabe said the drills done together with the US Navy are beneficial, citing as example their experience when super typhoon Yolanda hit last 2013 where aid came from their counterparts, including the US Navy. Gabrielson added that the exercises are always applicable in real time situations as both camps are all experienced in facing issues pertaining to disaster-response. He added that the troops are trained in fundamental skills that both navies share and that these skills will help improve their ability to operate together.
"They're already familiar with the procedures, they're already practiced at the basic fundamentals of getting together to work so that they can get together and immediately work together when they need to...What is important is that they can come back together to solve hard problems right away," Gabrielson said.
http://www.philstar.com/cebu-news/2017/06/25/1713477/philippines-us-navies-training-exercise-ends