From the Philippine Star (Jun 6):
NPA unlikely to join fight vs Maute group, says analyst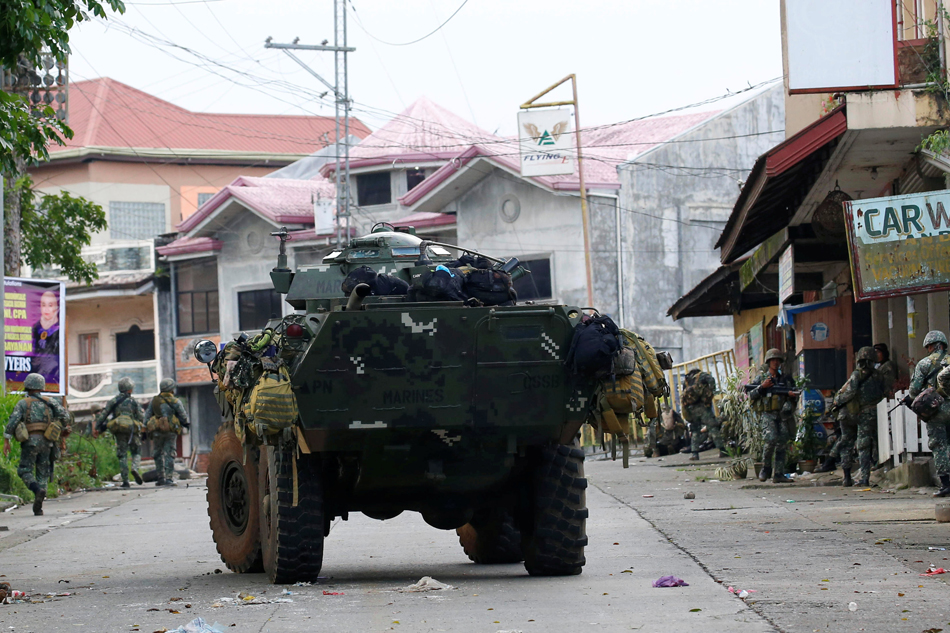 Members of Philippine Marines advance their positions as they prepare to assault the Maute group in Marawi City. Erik De Castro, Reuters
Having communist rebels join the fight against Maute terrorists in Marawi City is a good but unlikely idea since New People's Army (NPA) fighters are far from the battleground, a scholar said Tuesday.
Francisco 'Pancho' Lara Jr, country director for International Alert, said at most, communist rebels could help by ordering their armed wing, the New People's Army (NPA), to cease from committing atrocities that would require a redeployment of state troops away from battle-torn Marawi City.
"I think at the most what could happen that could help is what the President has been asking for in the first place: for the NPA to stand down while the government is moving against the terrorist in Marawi. And if that will happen, that will be their contribution to the fight against terrorism,"
Lara said in an interview on ANC's "Early Edition."
President Rodrigo Duterte in a previous speech said fighters from the Moro Islamic Liberation Front (MILF), Moro National Liberation Front (MNLF), and NPA may help the government fight the Maute group and other rebels.
READ:
Duterte asks separatists, Maoists to join fight against Maute group
A joint statement from the government and MILF quoted MILF chairman Alhaj Murad Ebrahim as saying that they welcomed President Duterte's idea for their forces to extend "humanitarian assistance to civilians which are still trapped" in Marawi City.
Duterte earlier said MNLF founding chairman Nur Misuari had already agreed to send some of his troops to help government forces in Marawi.
READ:
MILF ready to assist gov't in Marawi crisis
THREAT TO MISUARI

Lara said he thinks that the offer of Misuari demonstrates the MNLF leader's willingness to keep his word of supporting the President, and also because the terrorists are seen as a threat to areas where Misuari's faction is operating.
Lara, who also chairs the government ceasefire committee with the National Democratic Front (NDFP), added that he does not see "any actual possibility" that the NPA would join government forces in clearing Marawi City of terrorists due to geographic and operational reasons.
He explained that geographically, the NPA is far away from the battleground against Maute terrorists which is in Lanao del Sur.
"It is good in the sense that the government can concentrate its attention on the Abu Sayyaf and Maute group but that is if both the fronts, the MILF, the MNLF and the New People's Army do not move during this incident still going on in Marawi,"
he said.