From the Mindanao Examiner (Jun 5):
Duterte puts up P20 million bounties for heads of ISIS leaders in Philippines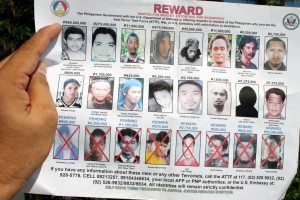 Wanted posters show photographs of Isnilon Hapilon, who is the emir of ISIS in the Philippines. (Mindanao Examiner Photo)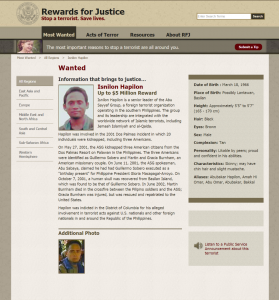 The Philippine military on Monday announced that President Rodrigo Duterte has offered P20 million bounties for the heads of leaders of the local ISIS group battling security forces in the war-torn city of Marawi in the Muslim province of Lanao del Sur.
It said Duterte offered P10 million for the head of Isnilon Hapilon, chieftain of the notorious Abu Sayyaf group and emir of the local ISIS; and P5 million each for brothers Abdullah and Omar Maute, the leaders of the Maute group.
"The President is offering P10 million reward money for the neutralization of Isnilon Hapilon, who is believed to be leading the terrorist Maute-ISIS group in attacking Marawi City,"
said Philippine military chief, General Eduardo Año.
In 2006, the government offered P11 million bounty for Hapilon's capture. And this is on top of the $5 million bounty the United States also offered for Hapilon.
Hapilon and the brothers Maute led the May 23 siege of Marawi that had killed at least 22 civilians and left dozens of casualties on the military side. And fighting still continue between security forces and ISIS fighters.
Clashes were so fierce that the military launched air strikes to support ground troops, but 11 soldiers had been killed after a wayward bomb dropped from an air force plane hit a group of infantrymen.
The air strikes and artillery that pounded the city have turned Marawi into a virtual Alepo, a city in Syria now in ruins due to fighting between government and rebel forces. And there is no sign the fighting in Marawi is subsiding with Duterte telling the ISIS fighters that he will not negotiate with them even if they kill all their civilian hostages.
Jihadists are still holding at least 240 hostages, according to Catholic priest Fr. Chito Suganob, himself a hostage who earlier appealed – in an ISIS propaganda video – to Duterte to immediately withdraw all security forces in Marawi and Lanao del Sur, a demand set by the militants who threated to execute the captives.
http://mindanaoexaminer.com/duterte-puts-up-p20-million-bounties-for-heads-of-isis-leaders-in-philippines/