From the Philippine Star (Jun 10):
Martial law arrest order: 310 terrorists, supporters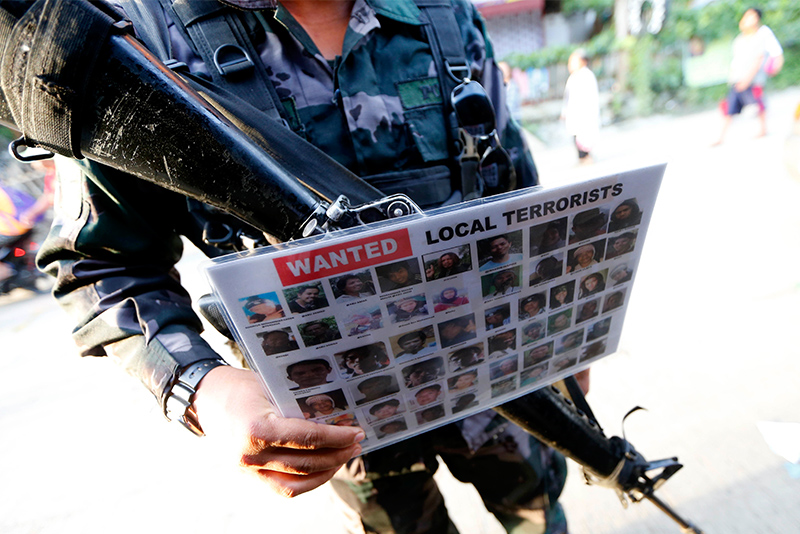 Using its martial law powers, the Department of National Defense has issued arrest orders against 310 alleged members, supporters, spies and couriers of four terrorist organizations in Mindanao. AP/Bullit Marquez, File
Rody to follow SC on martial law
MANILA, Philippines -
Using its martial law powers, the Department of National Defense (DND) has issued arrest orders against 310 alleged members, supporters, spies and couriers of four terrorist organizations in Mindanao.
All those in the list are accused of involvement in killings, kidnappings and bombings to set up an Islamic state in Marawi City, which altogether constitute the crime of rebellion under Article 134 of the Revised Penal Code.
Those to be arrested are tagged as members of the Maute group, Abu Sayyaf, Bangsamoro Islamic Freedom Fighters and Maguid group.
Defense Secretary Delfin Lorenzana, the designated administrator of martial law as proclaimed by President Duterte on May 23, signed Arrest Orders 1 and 2.
Those in the list are accused of "sowing terror to the populace" with the common design or goal of allegedly committing rebellion "for the purpose of removing Mindanao from the territory of the Government of the Republic of the Philippines or its laws by establishing an independent Islamic State and/or deprive the Chief Executive of his powers and prerogatives as President of the Republic."
Arrest Order No. 2 dated June 5, 2017 lists 185 names, including several alleged Maute clan members, while Arrest Order No. 1, as confirmed earlier by Justice Secretary Vitaliano Aguirre II, calls for the arrest of 125 individuals.
Lorenzana tasked the Armed Forces of the Philippines (AFP), Philippine National Police (PNP), Philippine Coast Guard (PCG), National Bureau of Investigation (NBI) and the Bureau of Immigration (BI) to implement his directives.
He said those in the lists are to be arrested, taken into custody, investigated and charged before the Department of Justice (DOJ) within three days from their actual arrest.
The security agencies were also ordered to "ensure that all the rights of the persons arrested/detained/taken into custody… are protected by Philippine law, including human rights and the rights of persons under custodial investigation under Republic Act No. 7438."
The arrest orders were issued after the proclamation of martial law placing the entire Mindanao region under military rule.
President Duterte imposed martial law across the entire region within hours after the fighting broke out in a bid to quickly crush the Islamic State-inspired Maute group.
Duterte yesterday said he has no plans of perpetuating himself in power by placing Mindanao under military law.
"You know these fools, they were trying to think that we in government are trying to perpetuate ourself in power," he said.
"I'm the second president to declare martial law. I am not proud of it. I am not happy because it indicates something, that there is trouble."
The President lamented critics have been asking him how long martial law would prevail and what else remains to be done.
"You keep on asking when this will end. This is my answer to the doubting Thomases: there is no ambition to perpetuate (myself) in power," he said.
Duterte explained that he declared martial law because the AFP and the police told him that the crisis in Marawi City had reached its critical moment.
Duterte said he was forced to cut short his visit to Moscow because of the deteriorating security situation back home.
Several sectors, including opposition lawmakers, filed a petition before the Supreme Court (SC) questioning the validity of the declaration of martial law.
Four women from war-torn Marawi City joined the call by filing a separate petition yesterday asking the high court to order the lifting of martial law in Mindanao, saying it was unconstitutional.
Duterte gave assurance he would abide by the decision of the SC should it grant the petitions questioning his proclamation of martial law.
"Of course. We are bound by rules. It's the Supreme Court. Maybe you may differ individually… because you cannot agree on almost anything all the time," Duterte said.
Duterte also warned Moros to step aside as troops carry out the campaign against Maute terrorists or be killed.
"My warning to my fellow Moros: do not, do not attempt to play here. If you do not want to be harmed, step aside," the President said.
The hot list

Authorities are now tracking down the people listed in the arrest orders issued by the defense department.
Included in the arrest list are couples Cayamora Maute and Ominta "Farhana" Romato, the patriarch and matriarch of the Maute clan in Mindanao.
Cayamora was arrested at a checkpoint in Davao City last Tuesday along with three other members of the Maute clan, his third wife Kongan Alfonso Balawag, his daughter Norjannah Balawag and son-in-law Benzarali Tingao.
The arrest order also included former Marawi City mayor Fajad Salic,
who was arrested Wednesday in Villanueva town, Misamis Oriental. Salic, who is facing rebellion charges, is reportedly a financier and supporter of the Maute group in its early years.
On the other hand, 18 people all surnamed Maute were cleared by the NBI of any links with the Maute group fighting government troops in Marawi.
NBI spokesman Ferdinand Lavin pointed out the 18 Mautes "voluntarily presented themselves to be cleared of any suspicion of derogatory record."
Secretary Aguirre described them earlier as "surrenderees," saying the reason for their surrender is to clear their names.
Some of the 18 Mautes came from Lanao del Sur, where Marawi City is located, while some of them had been residing in Metro Manila for years.
Officials said the 18 Mautes were not among the 125 people in the list under Arrest Order No. 2.
Another Maute, a man in his 40s, received his NBI clearance to travel to Mecca for the hajj pilgrimage.
The man, who refused to be named for fear of his safety, insisted he had no blood relations with the Maute brothers leading the extremist group laying siege in Marawi.
Of the 125 people in the list, 95 use their real names while the rest are aliases.

Among those in the list are Hamsa Romato Maute, Ustadz Acmad Maute/Baute Kankan Romato, Macadatu Usman, engineer Talib Bayabao, Said H. Yusop Macadatu, Akhol Asad Abdulrahman Maute, Ali A. Maute, Aminkisa Romato Macadato, Nassif Romato Macadato, Hanipa Halayodan Diamael;

Fajad Salie alias Pre, Solitario Ali Salic Faisal Binaning Romato, Acmad Momokan Guinar, Imam Daud, Mike Ayonan, Jamil D. Yahya, Anthony Jake Perez, Jing Pagayao, Adliah Mimbantas Maute, Najiya Dilangalen, Karon Maute, Aminollah Hadji Ali Mangurom;

Omar Solitario Ali, Sultan Fahad Salic, Abul Radiah, Samuel A. Gavaran, Fiscal Habinb Barudi, Anwar Macadato Dimaporo, Unday Macadato, Mudag Dimala Macadato, Saifoden Guinar, Yusopia Macadatu Mesug, Ben Najar T., and former Butig, Lanao del Sur mayor Ibrahom Mitoon Macadato.

Also included are Zachariah Hadji Jabber, Basco Corot, Aliman Amerol, Manapowak Regaro, Zamanoden Liyaw, Abdul Batuwaan, Bao Elias Baki, Khadafi Bao, Sikar Romato Ilias Rauf, Amino Romato, Abdurahman Romato Jr.;

Abdullah Mimbantas, Ansari Cadiran, Mubarak Gunda, Suod Radiamoda Magarang, Mamacaya Magarang, Cayog Gunda, Diamal Ali Bacatimbang, Khamal Marcos Atawan, Anuar Basmala Atawan, Asis Mu, Ibnul Jihad, Said Hadji Macadato, Aleem Basit Dangaman, Ayob Saripada, Salic Ali, Congan Balawag, Datu Jun Singel, Abu Khalid Dilangalen, Pendatum Marohom, Mohammad Lalaog Chenikandiyil, Nasser Dilangalen, Abdulrafi Esmael P. Abdulrakman, Aladin Tenorio, Shelamar Berja, Yok Ampatuan, Mohammad Abduljabbar Sema, Esmael Abdulmalik Jonathan Lumbao, JB Mastura;

A certain Kadidja, Kopang Sahak, Ramram Tungan, Jumar Sala, Jamie Sala, Kris Salipada,

Akbar Buyo, Saedi Salipadad, Abdulrakman, Pepeng Gama, Banban Salipada, Alvin Gama,

Mahir Gama, Abu Harris Usman, Abu Omar Nilong, Abu Yasser Nilong, Zaide/Zainuding Nilong, Esmael Abubakar;

Mohiden Animbang, Kamad Tangle Benito,

Kadafi Abdulatip, Duk Benito, Dautin Gandang,

Bensar Etaw, Ustads Abunawas, Damiog Ibad,

Abdul Gapor Silongan, Utto Adzis, Kasim Talib,

Thong Abdul, Indo Omal, Datu Niño Ibrahim,

Badrudin Silongan, Hadji Abdullah, Sammy Panidas, Daty Mameko, Banjo Salih, Abu Kadil,

Talio Silongan, Omar Abdullah and a certain Cmdr. Melo.

Others included Zacaria Mindo, Tommy Abunasi, Mike Kawasa, Musa Ali, Saga Animbang, Hassan Kulaw, Amil Akoy, Nasrola Omar, Raul Angkay, Emarudin Hassan, Genwine Hassan, Saidin Ali Hassan, Umer Abdullah, Kasir Abdullah, Abdulgani Demalan, Ronnie Pasagi, Hadji Esmael, Bapa Diaw;

Samad Simpal, Dilamie/Daylani Sipon, Daurin Manampan, Naser Adil, Sheik Mauti, Tato Puaya, Daud Kansi, Norodin Abubakar, Ebrahim Ali, Ali Kadil, Solaiman Tubao, Lakmudin Adil, Anas Abubakar, Abdila Dasil, Kagui Iskak Omar, Nasrudin Pidtabo, Talib Indong, Mama Simpal, Haron Mendo, Buds Basilan;

Saga Indong, Edde Kinal/Dimakinal, Ustadz Maso, Kuno Silonga, Zacaria Mindo, Salahudin Indal, Sinolinding Dimalilay, Ustadz Usah Ganoy, Serah Eskak, Basit Kulibogan, Nasir Sandigan, King Metin, Cmdr. Panegas, Cmdr. Malang, Alimudin Zacaria, Cmdr. Haun Sindatok, Abubakar Julkifre, Mike Siete, Datukan Usman, Kamad Indal, Kagui Roweda, Sadaan Salendab, Mohammadnur Hassan, Abdulagani Mantil, Peng Kulilong, Tiangbong Adam Mamalinta, Allan Mostrales, Fahad Salic, Mohammad Ali and Bambang Maute.
Arrest them anywhere
Aguirre said that while martial law is imposed only in Mindanao, the arrest of the listed personalities can be made anywhere in the country.
Catalino Cuy, officer-in-charge of the Department of the Interior and Local Government, said the PNP commanders in Mindanao have been tasked to help the military arrest those on the list.
Bureau of Immigration spokesperson Maria Antonette Mangrobang said the names provided by the defense department have been incorporated in their alert order list.
http://www.philstar.com/headlines/2017/06/10/1708542/martial-law-arrest-order-310-terrorists-supporters