From the Mindanao Examiner (Jun 8):
Former Marawi mayor arrested for rebellion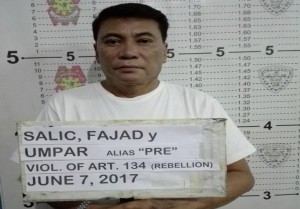 Former Marawi City Mayor Fahad Salic.
Philippine authorities have arrested a former mayor of Marawi for his alleged role in financing or supporting the local ISIS group which lay siege on the Islamic city that left dozens of people dead since fighting began last month.
Fahad Salic

, who was once married to Filipina actress Alma Moreno, has been arrested late Wednesday at a roadblock in Villanueva town in Misamis Oriental province while on a truck on his way to Cagayan de Oro City. His vehicle also displayed a sticker with President Rodrigo Duterte's name on it.
Security officials said Salic, whose wife Rasmia, is the niece of Farhana Romato Maute, the mother of the leaders of the local ISIS group and is also wanted by authorities on rebellion charges.
Salic and the Maute matriarch are both included in the list of over 180 people who are being hunted by the police and military authorities in connection to terrorism charges. Salic strongly denied all accusations against him.

Just recently, authorities also arrested Cayamora Maute, the clan's patriarch and one of his wives and daughters, and another man while attempting to enter Davao City in a rented van.
Both Salic and the elder Maute were transported to Manila on Thursday where they would be interrogated.
Salic said he does not fear for his security, but is terrified that he would be jailed for a crime he did not commit. He said he has no connections with the ISIS or the Maute group and was never a financier or supported the radical group.
The politician was briefly held at the headquarters of the 4th Infantry Division here before escorted under heavy security to the airport. His family and relatives claimed the military did not allow them to see or visit Salic and not even his lawyers.
There was no immediate statement from the actress on the arrest of Salic, but the two had separated in 2014 after getting married in Cebu City in central Philippines in March 2009. They also have a child who is now 7 years old.
http://mindanaoexaminer.com/former-marawi-mayor-arrested-for-rebellion/