From Rappler (Jun 11):
4 captured Maute fighters dead in ambush
(3rd UPDATE) Several Maute Group members are reportedly killed and a few policemen injured because of an ambush by an 'unknown group'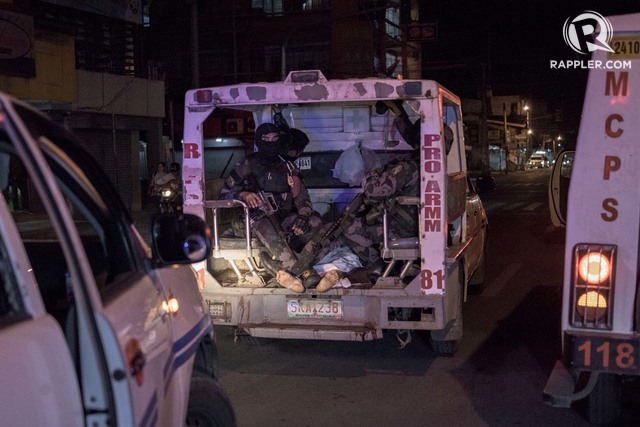 MARAWI CITY, Philippines (3rd UPDATE) –
At least 4 Maute fighters died early Saturday evening, June 10, after an ambush on a police convoy that was supposed to bring them to Cagayan de Oro City.
According to a police report, the convoy was at the boundary of Balo-i and Pantar towns in the province of Lanao del Norte when they were ambushed by an "unknown group."
At least 3 policemen were reportedly injured as a result of the ambush, according to an initial report.
Four of the Maute Group members were reportedly brought to a nearby hospital for treatment, but pictures taken right after the attack show at least one dead body on a police vehicle.
A source confirmed to Rappler that the convoy was transporting Maute fighters who were arrested Thursday night, June 8, along with
Farhana Maute
, the mother of the Maute brothers who are among the leaders of the attack in Marawi City.
Top defense officials confirmed the same during a press conference in Cagayan de Oro City on Sunday, June 11.
Farhana had been immediately moved out of Lanao del Sur last Friday, June 9.
The Marawi City attack prompted President Rodrigo Duterte to
place the entire Mindanao island under martial law
. He also suspended the privilege of the writ of habeas corpus, giving more leeway for warrantless arrests.
Since the
clashes
and the declaration of martial law, security has been tight in Marawi City and nearby towns. Military and police have set up checkpoints to closely monitor the flow of people inside and outside Marawi City and nearby areas.
http://www.rappler.com/nation/172605-convoy-arrested-maute-fighters-ambushed-marawi