From Rappler (Apr 19):
Duterte offers P1M reward for suspects behind foiled Bohol attack
During a security briefing in Bohol, the President orders security forces to contain the terror threat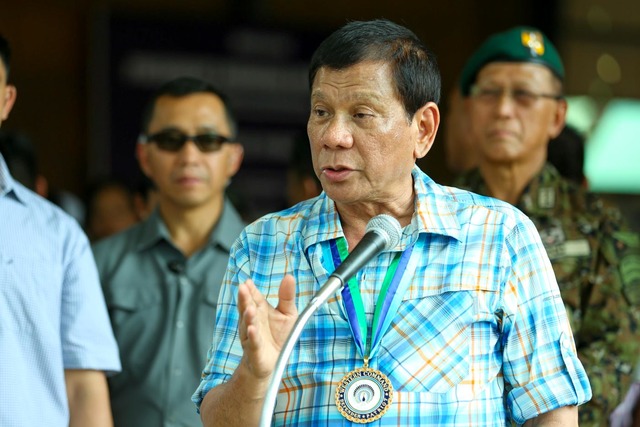 JOLO 'INVASION'? President Rodrigo Duterte warns he will 'invade' Jolo if the terror threat in the country spins out of control. Malacañang file photo
President Rodrigo Duterte is ready to give P1 million as reward for the apprehension, "dead or alive", of each Abu Sayyaf member behind the
foiled terror attack in Bohol
.
"I have a P1-million offer, per person. Even just a tip, give it to the police and military, no questions asked,"
he said on Wednesday, April 19, during a chance interview in Tagbilaran, Bohol.
He was there to attend a security briefing for the Association of Southeast Asian Nations (ASEAN) Summit. Some ASEAN 2017 events will be held in Bohol this week.
"Dead or alive man 'yan, may reward, pero mas gusto ko 'yung dead kasi 'yung alive, magpakain pa ako ma'am, magastos masyado,"
said the President.
(Dead or alive there will be a reward, but I prefer dead because you'd have to feed the living, it's more costly.)
He said 6 Abu Sayyaf members are thought to have escaped during a clash between government forces and their group on April 11.
Military and police, with the help of locals, were able to foil a terror attack by the group.
Duterte said the terror attack was targeting ASEAN meetings to be held in Bohol this month.
Arming civilians
The President also intends to empower civilians to carry arms so they can effectively carry out his orders against the terrorists. If they end up facing legal cases for having killed someone, Duterte said he would pardon them. It's the same promise he gave to military and police who will face cases as they implement his drug war.
"I intend to also arm the civilians and I will include the civilians, if you kill, you do not have to worry, you just go to the police and make a report and state your truth and you won't have any problem, I'll take care of you. I'll pardon you," he said.
But he said he still has to consult local government officials who may have issues with such an order.
"I have to talk to local officials, they might have some objections," he added.
Contain terror threat
During the security briefing, Duterte gave orders to security forces to contain the terror threat in Mindanao.
"They must not reach the places well beyond the Mindanao Sea, dapat doon lang sila (they should just stay there)," he said.
The foiled terror attack in Bohol has sparked concern about Abu Sayyaf presence in regions outside Mindanao. (READ:
Bad or good intel? 5 questions on Abu Sayyaf presence in Bohol
)
Duterte expressed confidence with the capability of cops and soldiers to monitor the movements of terrorists using a satellite-based tagging system.
If the terror threat spins out of control, he warned that he would not hesitate to take his "last option": to invade the terrorist-infested areas of Jolo, Sulu.
"'Pag naipit na ang bayan, I will order the invasion of Jolo. Lahat ng army, lahat ng navy magpunta doon," he said. (If the country is pushed against a corner, I will order the invasion of Jolo. All of the army, all of the navy will go there.)
Jolo is a stronghold of terror groups, with the Abu Sayyaf known to be hiding in its mountains and jungles.
http://www.rappler.com/nation/167360-duterte-offers-reward-abu-sayyaf-bohol-attack