From the Philippine Star (Feb 20):
Quirino villagers leave homes due to rebel presence, Army claims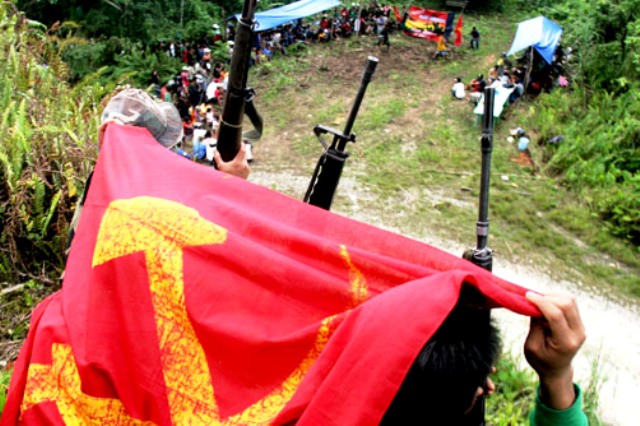 The Army's 5th Infantry Division claims residents were "terrorized by the presence of armed men." File photo
Hundreds of villagers from two barangays in Madella town in Quirino province were displaced from their homes and farms after NPA rebels reportedly told them to flee, the military claimed.
This, after more than a hundred rebels occupied a school area

in remote San Martin barangay

more than a week ago, forcing another 54 families to seek safer ground.
Only last Saturday, Army

1Lt. Rhea May Reyes

, speaking for the Isabela-based 5th Infantry Division said residents of

barangays Cabua-an and Sto Nino

were "terrorized by the presence of armed men".
Reyes claimed rebels forced the people to leave their homes and be move temporarily to the barangay proper.
Earlier, scores of families

in Barangay San Martin

, fled after rebels came and occupied a school in the area, causing trauma, fear and panic to the residents, particularly the children, the military said.
To address it, said Reyes, soldiers from the Philippine Army's

86th Infantry Battalion

assigned in the area are instituting security patrols to drive away the rebels "so that the residents can now return to their homes and live normal lives."
Maj. Gen. Paul Atal, commanding general of the 5th Infantry Division

vowed to continue providing security to the villagers in Madella while urged the rebels "to lay down firearms and live peaceful lives."
CPP orders release of police, military captives
The leadership of the Communist Party of the Philippines has meanwhile ordered New People's Army units holding six government security forces captive in Mindanao to hasten their release as a "positive gesture" towards a bilateral ceasefire agreement with the government.
The CPP called on the NPA commands holding the six "to expedite (their) release."
The NPA commands in charge of the custodial units can work closely with third-party facilitators, it added, while, "the AFP can cooperate by withdrawing all troops in and around the area where the POWs will be released to pave the way for their safe and orderly release."
The CPP said that with the cooperation of local AFP commands, "all POWs can return to their families before or during the scheduled negotiations in The Netherlands."
This as the CPP still expressed hopes for continuing talks with the government ssying, "if [President Rodrigo Duterte] decides to send his negotiating panel and emissaries to the upcoming scheduled talks between the ceasefire committees, negotiations for a bilateral ceasefire agreement can proceed as scheduled on February 22-27 in The Netherlands."
It added that the success of the negotiations can be ensured "if the [government] facilitates the travel of the NDFP's ceasefire committee member and consultants."