From the Maritime Executive (Oct 31):
Without Ransom, Seafarers Still Held by Abu Sayyaf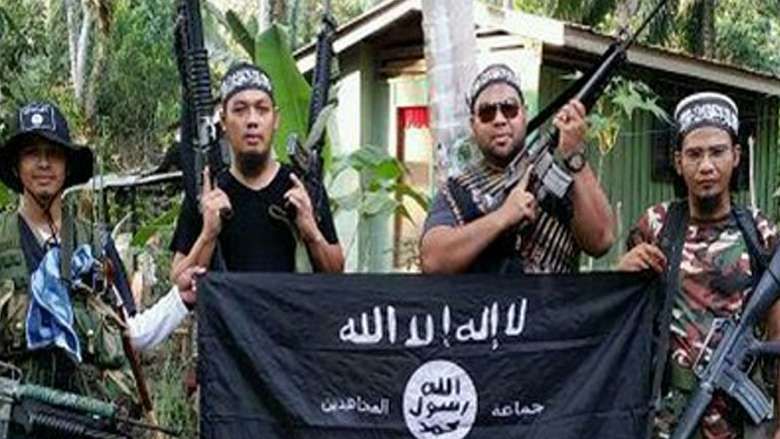 Abu Sayyaf group members (social media video still)
Malaysian media report that five seafarers captured by the Abu Sayyaf group are still being held, two weeks after the expiration of a ransom deadline.
Abu Sayyaf militants boarded the tug Serudong 3 and captured the five seafarers on July 17. The group initially demanded $2 million for the men's release, but they later lowered the ramsom to about $500,000.
The families reached out to the public for donations but were unable to come up with that much money before the final deadline of October 16.
Local BenarNews
spoke
with Gustiah Sultan, a spokeswoman for the families.
"I really don't know what to do. All I could do is pray and hope that the government will help us with this troubled episode of our lives," Gustiah told BenarNews. "Even after the deadline, we can only collect about [$5,000] in cash."
She said that there was at least one piece of good news: the seafarers' employer has continued to pay the men's salaries, allowing their families to pay the bills.
Relatives of other kidnapped seafarers have had the capacity and willingness to pay ransom demands, and Philippine sources estimate that Abu Sayyaf has raised about $7 million from kidnappings over the course of the year. The funds have gone towards rearming and resupplying the terrorist group.
Military sources told the Inquirer that they believe Abu Sayyaf Group has about 12 hostages remaining.
Separately, on Sunday, eight Philippine soldiers were injured in a skirmish with Abu Sayyaf fighters in Sulu. An army spokesman told ABS CBN that a battalion-strength unit encountered 100 Abu Sayyaf militants, and that up to 400 were believed to be in the area.
In another
encounter
on Sunday, Philippines special forces found eight armed Abu Sayyaf members and killed two, bringing the total count of terrorists killed in the Sulu campaign to 38. 15 soldiers have been killed and 28 wounded.
http://maritime-executive.com/article/without-ransom-seafarers-still-held-by-abu-sayyaf