From Rappler (Nov 28):
Duterte to meet with Gloria Arroyo, Nur Misuari on Nov 28
Both Arroyo and Misuari have thanked the President for their 'freedom' and have promised to support his administration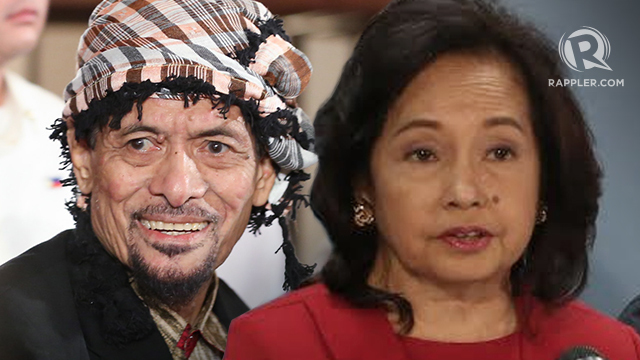 President Rodrigo Duterte is set to meet with former President and now

Pampanga 2nd District Representative

Gloria Macapagal Arroyo and Moro National Liberation Front chairman Nur Misuari on Monday, November 28, at Malacañang Palace.
This is the first time Duterte will have a one-on-one meeting with Arroyo in Malacañang. The last time the former president was in the Palace, it was to attend the
first National Security Council meeting
under the Duterte administration. Former presidents Benigno Aquino III, Fidel Ramos, and Joseph Estrada were also at the meeting.
Arroyo has been
profuse in her gratitude
for Duterte after the plunder case against her was
dismissed
by the Supreme Court last July, ending her nearly 4 years of hospital arrest.
She had expressed her "heartfelt appreciation" to Duterte for allowing her case to "take its course totally unhampered."
Since then, Arroyo has vowed to fully support Duterte in Congress.
On the other hand, Misuari's meeting with Duterte on Monday will be the second time he sets foot in Malacañang under the Duterte administration.
The first time was when he was
flown to the Palace
from Sulu mere hours after the publication of a c

ourt order suspending arrest warrants against him.
His temporary freedom is intended to allow him to participate in the Mindanao peace process.
Duterte had declared previously that Misuari was not to be arrested due to his "fragile" condition, despite
rebellion charges
over the 2013 Zamboanga siege to protest the peace process with rival group
Moro Islamic Liberation Front (MILF).
Misuari has thanked Duterte for his "freedom" and promised to engage with the government peace panel by drafting his
own proposal
to amend the powers and territory of the Autonomous Region in Muslim Mindanao (ARMM).
Duterte promised a more inclusive peace process that would engage more interest groups in Mindanao, including MNLF.
http://www.rappler.com/nation/153824-duterte-meet-gloria-arroyo-nur-misuari