From CNN (Oct 4):
Philippines' President says he'll 'break up' with US, tells Obama 'go to hell'
Philippine President Rodrigo Duterte's vitriol against the United States took another caustic turn Tuesday, when he threatened to "break up" with the US and said President Barack Obama can "go to hell."
Duterte's latest remarks came just as the US and Philippines started joint military exercises -- perhaps for the last time.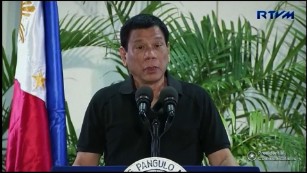 The war drills began Tuesday in Manila and will last until October 12. Last week, Duterte said this round of joint drills with the US would be the last.
"I serve notice to you now that this will be the last joint military exercise with US,"
Duterte said
.
'I will break up with America'
Durterte's verbal tirade against the US heated up after widespread criticism of his anti-drug campaign.
Thousands of suspected drug dealers and users have died during Duterte's aggressive crackdown on the illegal drug trade.
Some were killed during shootouts with local police when suspects allegedly resisted arrest. Others died in nightly vigilante-style killings, where bodies are left on the streets with cardboard signs describing their alleged drug-related crimes.
On Tuesday, Duterte said he's willing to cut ties with the US in favor of Russia and China.
"
Respect is important," he said in one of three speeches Tuesday. "If this is what happens now, I will be reconfiguring my foreign policy. Eventually I might, in my time, I will break up with America. I'd rather go to Russia and to China."
Duterte also had harsh words for the US President and the European Union
: "Mr. Obama, you can go to hell. ... The EU better choose purgatory."
Obama administration responds