From the Philippine Star (Sep 26):
Coast Guard launches patrols vs Abu Sayyaf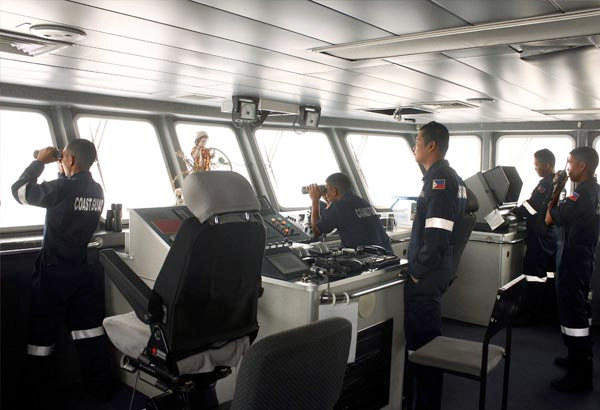 Philippine Coast Guard personnel. File photo
The Philippine Coast Guard has started conducting night patrols in response to reports that Abu Sayyaf militants have been fleeing Sulu to escape a military offensive there.
Commodore Pablo Gonzales Jr., commander of the PCG Southwestern Mindanao district, said Monday in a press briefing at City Hall that the night patrol was launched
because of persistent threats that the Abu Sayyaf might attack the city.
"All of our efforts, including the night patrols, are in coordination with the Western Mindanao Command (Westmincom) which is on focused military operations in Sulu,"
Gonzales said.
Gonzales said the Coast Guard district has to stretch its limited manpower and patrol vessels across the vast and contiguous coastline to prevent the fleeing Abu Sayyaf from slipping in.
The district is headquartered in Zamboanga City and has stations in Pagadian, Cotabato, Jolo, Mapun and Bongao.
Meanwhile, Malaysian security officials are also on high alert against Abu Sayyaf militants who may attempt to slip into Sandakan via Taganak off Tawi-Tawi and Bakunggan off the border of Sabah.
The Eastern Sabah Security Command (ESSCOM),

in a statement posted in a Sabah-based news site, said that about 400 Filipinos are waiting to breach its security along the Sabah border.
Westmincom spokesperson Maj. Filemon Tan Jr.,

earlier disclosed that the Abu Sayyaf group had split up into factions to evade about 10,000 soldiers deployed in Sulu.
"Our troops continue to close in and hope they will engage with their targets," Tan said.
Zamboanga City Mayor Ma. Isabelle Climaco-Salazar said security had been on alert even before President Rodrigo Duterte warned of a potential bomb attack there after a bomb attack in Davao City earlier this month.
Salazar said the city, which will have its month-long Zamboanga Festival in October, has doubled security and will hold some of the festival activities indoors for tighter security.
She said the city will also relax the implementation of a law requiring the wearing of motorcycle helmets within five kilometers of the city to monitor suspects who might disguise themselves as motorcyclists.