From the Philippine Star (Jul 2):
Abu Sayyaf wants to talk to Duterte admin for negotiation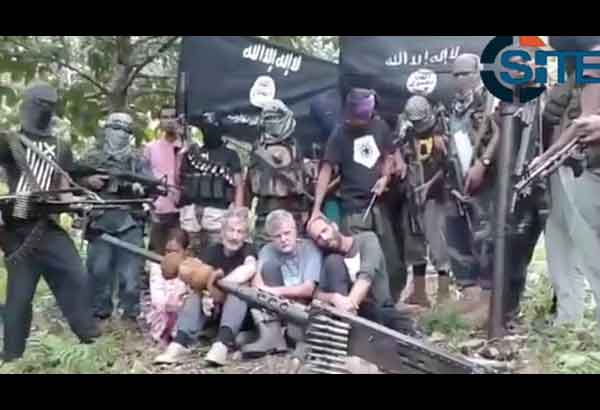 An earlier file image posted on Site Intel Group's Twitter account shows Abu Sayyaf members with the Samal Island hostages
The Sulu-based Abu Sayyaf group holding hostage foreign nationals expressed desire to talk to the administration of President Rodrigo Duterte, according to its spokesman.
But the Abu Sayyaf warned of executing the last Samal captive Norwegian Kjartan Sekkingstad should the government refused.
Muammar Askali alias Abu Rami, spokesman of the Sulu-based Abu Sayyaf group

, said over a local radio DXRZ on Friday that they have opened the line for the government to have a dialogue with them.
Askali said they particularly want Presidential Peace Adviser Secretary Jesus Dureza to negotiate with them and relay their grievances to Duterte.
The spokesman declined to divulge their "concessions" from the government except to Dureza whom they want to initiate the talks.
Askali said they would be forced to execute Sekkingstad if they do not hear from the government starting Friday until Saturday next week.
"If they will just disregard us, as soon as possible, we will no longer issue any ultimatum we will execute him (Sekkingstad)," Askali said.
Askali didn't mention anything about their new seven Indonesian captives.
The Abu Sayyaf group earlier demanded P300 million ransom in exchange for the release of Sekkingstad.
The group beheaded Sekkingstad's fellow captives, Canadians John Ridsdel and Robert Hall, but released Filipina Marites Flor last week following alleged payment of huge ransom.
http://www.philstar.com/headlines/2016/07/02/1598812/abu-sayyaf-wants-talk-duterte-admin-negotiation