From the Mindanao Examiner (Apr 13):
Aquino visits wounded troops in Zamboanga (Photos)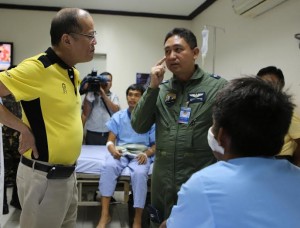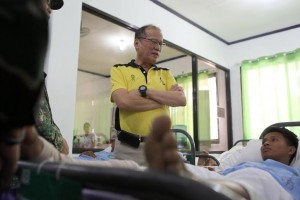 President Aquino in Zamboanga City in southern Philippines. (Photos by Michael Rey Baniquet)
ZAMBOANGA CITY –
President Aquino flew to Zamboanga City on Wednesday and visited dozens of soldiers wounded in fierce clashes with Abu Sayyaf rebels in the volatile province of Basilan.
His visit came barely 12 hours after an improvised explosive went off outside a night club in Lamitan City in Basilan, one of 5 provinces under the restive Autonomous Region in Muslim Mindanao. There were no reports of casualties, but authorities blamed the Abu Sayyaf for the attack.
Aquino awarded medals to the soldiers at a military hospital in Western Mindanao Command and then briefly visited the wake of one of 18 slain infantry man in Ayala village. He later met with some of families of the soldiers at the Edwin Andrews Airbase.
Security was tight during Aquino's visit here and journalists were not allowed to interview the president.
More than 50 soldiers were wounded in recent fighting with the Abu Sayyaf in Tipo-Tipo town where the military killed a Moroccan bomb expert Mohammad Khattab and Purudji Indama, a notorious Abu Sayyaf commander, and Ubaida Isnilon, son of rebel leader Isnilon Hapilon.
Aquino was accompanied by General Mayoralgo dela Cruz, chief of the Western Mindanao Command, but it was not immediately known whether he would be removed following desdly clashes that left a huge number of casualties.
Just recently, Dela Cruz sacked Brigadier General Alan Arojado, commander of an anti-terror group, and his deputy Brigadier General Jose Cabanban, for failing to stop the kidnapping activities of the Abu Sayyaf in southern Philippines.
http://mindanaoexaminer.com/aquino-visits-wounded-troops-in-zamboanga/