From Rappler (Apr 15):
4 soldiers hurt in Basilan clash with Abu Sayyaf
The clash comes barely a week after gunmen killed 19 Army soldiers in Basilan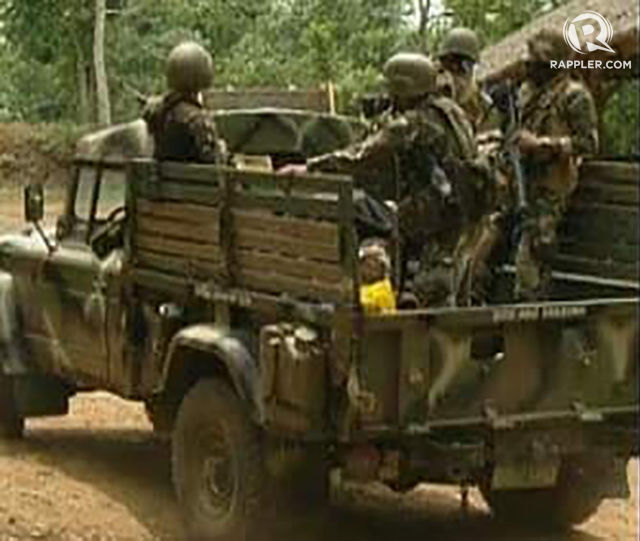 SECURING BASILAN. Army troops on patrol on Thursday, April 14, in Basilan. Photo by Richard Falcatan/Rappler
Army soldiers clashed again with the Abu Sayyaf

in the town of Ungkaya Pukan

on Thursday night, April 14, near the same site of the bloody encounter on April 9 that killed 19 government troops.
Four of the soldiers from the Army's 18th infantry battalion were wounded during the 2-hour encounter with Abu Sayyaf gunmen

at 9:40 pm Thursday

in Barangay Umalon, Ungkaya Pukan town

, the miltary said.

One member of the Abu Sayyaf Group (ASG) was killed, the added.
Colonel Rolando Bautista, commander of 104th infantry brigade

,

area said the firefight occurred as soldiers continued their security operations in the hinterlands.
It came barely a week after Army soldiers were killed in a 10-hour gun battle with alleged ASG members in the same province.
A terror expert earlier told Rappler that the leader of the extremists in Basilan is no longer with the Abu Sayyaf but with ISIS, or the
Islamic State (ISIS, ISIL or Da'esch). ISIS itself issued a statement on Thursday
claiming responsibility
for the Basilan attacks.
But the Philippine military remains skeptical. Defense Secretary
Voltaire Gazmin
insisted there is "no formalized" ISIS organization in the Philippines.
Bautista underscored the military's relentless operations against the extremists in Basilan.
The military is setting up its own media center in Tabiawan, Isabela City to provide updates on the security situation in the area.