From Rappler (Aug 8):
When wounds start to heal: Teaching peace to kids
'When will the next bullet hit me?' some children would ask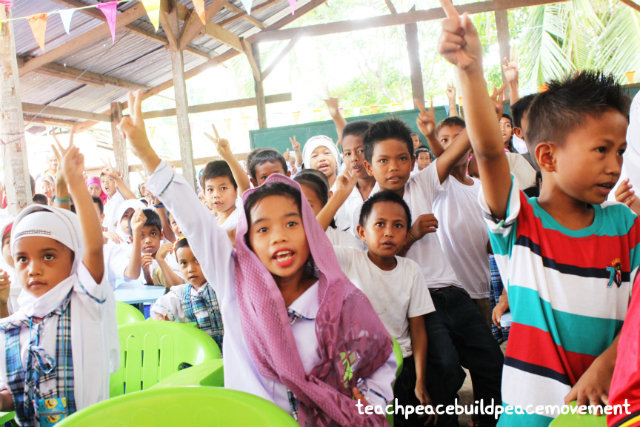 FUN AND LEARNING. The children at Haji Salik Elementary School learning the Go Peace Clap. All photos from TPBPM
It was a gloomy day but the kids in Haji Salik Kalaing Elementary School had beaming smiles.
One of them was 15-year old Saad. His face glowed when we approached him. You would not have known that just 6 months ago, 3 bullets had wounded him.
The last time we saw Saad was in April 2015. The stitches on his body were still fresh. He was sullen.
"Hindi na ako puwede magbuhat ng mabibigat. Hindi na ako puwede magsaka (I'm no longer allowed to do any heavy lifting. I'm not allowed to farm)," he said. But now you could look at him and see hope.
The Teach Peace Build Peace Movement (TPBPM) advocates for children like Saad who were victims of war and conflict. In the continuing fight for self-determination, many of the children in
Mamasapano
had to wake up in the morning with fears in their hearts. "When will the next bullet hit me?" They'd often ask themselves.
In the clash, innocent villagers were wounded; some even killed. Over two thousand families fled their homes, some walking long distances to makeshift evacuation camps with nothing but the clothes on their backs.
With the help of the Armed Forces of the Philippines, the TPBPM team went to these affected areas in Mamasapano in April to assess their needs and to collect stories from the affected children. And because we felt the need to come back, we did.
Our team was headed yet again to another mission in July, with some others from our Cebu chapter. We conducted a Peace Mission to some 800 children, parents, and teachers in two elementary schools in Mamasapano – Haji Salik Kalaing Elementary School and Tatak Elementary School – through fun games, art, and music.
The children participated in "Peace Fun Day" activities, where they reflected and learned about how "peace is a way of life." Through "Peace Flashcards," we taught them that simple acts, like showing respect for their elders and keeping their surroundings clean, are already acts of peace.
TPBPM Arts for Peace Director AG Saño also launched "The Sketchpad Project" by conducting a drawing workshop. Select children also received Peace Art kits with sketchpads and coloring materials. Recognizing the power of art, the activity aimed to provide a healing and transformational space for children, allowing them to express what words cannot.
The sketchpads are not just mere art tools. They will serve as their new diary where they can draw their hopes and dreams, theirs to fill with colorful canvass – with no limits, no boundaries, no restrictions. When children were asked to draw and write their stories, many of them hoped for peace so they can return to school.
In a one-day workshop, Teach Peace trained 10 volunteer soldiers from the 6

th

Infantry Division and 7 members of the Humanitarian and Emergency Action Response Team (ARMM-HEART) to help facilitate the activities we prepared for the children.
After the activities, the volunteer soldiers were glad that they were able to change the way some of the children and parents see them. ARMM-HEART volunteers, who were already working with the communities beforehand, were happy to see progress in uplifting the spirit of the parents and their children.
We also painted "Peace Murals" on the walls of the two schools, using words in the Maguindanaoan language. Children, their parents, teachers, and other members of their communities helped paint the murals to show that peace is inclusive and that it knows no age, gender, or race.