From GMA News (Feb 17):
Duterte to talk to NPA rebels over Mati police station attack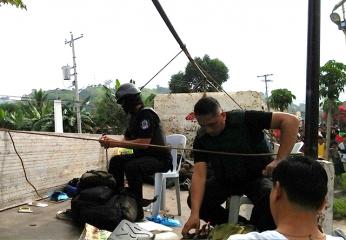 PNP bomb experts inspect the items recovered from the back of a truck abandoned by suspected New People's Army rebels after a raid on the Mati City Police station on Sunday, February 15. At least four soldiers and one NPA rebel were killed in the ensuing firefight. EastMinCom/PIO
Davao City Mayor Rodrigo Duterte is willing to talk to communist rebels over the attack on a police station in Mati, Davao Oriental last weekend.
GMA Davao's LJ Lindaan reported Tuesday that Duterte plans to talk to National Democratic Front Mindanao spokesman Jorge Madlos a.k.a. Ka Oris.
"I expect to see Ka Oris," said Duterte, who chairs the Davao region's Regional Peace and Order Council.
He said he was dismayed over the insurgents' use of IEDs (improvised explosive devices), including land mines, against government troops.
Such explosives killed at least four soldiers pursuing the rebels who attacked a police station in Mati, Davao Oriental.
"Ang problema, we do not know where to bring these charges... Walang government panel," Duterte said.
He also said that as chair of the regional peace and order council, he does not want violence in the region.