Posted to the Samar News (Jul 21):
19IB and Bangon Mini-Farms Association eye nationwide market chain
By DPAO, 8ID PA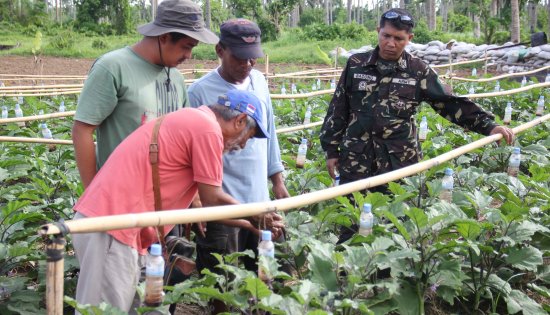 KANANGA
, Leyte
–
The 19th Infantry (Commando) Battalion and Bangon Mini-Farms Association in Leyte are eyeing a nationwide market chain for their vegetable products.
This development was pushed during the Board of Trustees meeting for the Bangon Mini-Farms Association Alpha Sector Inc. held on Wednesday, July 16 at Headquarters 19th Infantry Battalion in Brgy. Aguiting, Kananga, Leyte.
Director Domingo Diaz, member of LandBank Board of Trustees who pioneered the Bangon Mini Farm concept in Super Typhoon "Yolanda" affected areas in Samar and Leyte, said a memorandum of agreement is underway between Bangon and a market chain in Cebu.
With this significant progress, Mr. Gil Carandang, the Father of Philippine Organic Farming who also sits in the Board of Trustees for the Bangon Mini-Farms Alpha Sector Association Inc., is scheduled to conduct a weeklong field audit to assess 19 types of vegetables required by the would-be market. The vegetables requested by the market chain are currently on intensive field test at Bangon pilot farms.
Field audits will cover pilot farms at
Ormoc
City
,
Kananga
, Capoocan, Carigara,
San Isidro
, Calubian and Jaro, all of
Leyte
province and will be assisted by the 19th Infantry Battalion.
During the meeting, Director Diaz handed over the Alpha Sector's Certificate of Incorporation (COI) which was issued by the Securities and Exchange Commission on June 18 this year. The COI contains Company Reg. Nr. CN201411778 and Company TIN 008-801-182 signed by Dir. Ferdinand B. Sales, of SEC's Company Registration and Monitoring Department.
The membership of Bangon Mini-Farms Association Alpha Sector Inc. is now placed at 426, seven months after ST Yolanda.
Lt. Col. Nedy Espulgar, commanding officer of 19IB said, "The program is beneficial to farmers whose income is within the poverty threshold. With this program, a farmer with 1000 square meters of tillable land can earn up to P16,000.00 per month."
http://www.samarnews.com/news2014/jul/d096.htm