From Rappler (Mar 11):
4 female cadets in PMA's top 10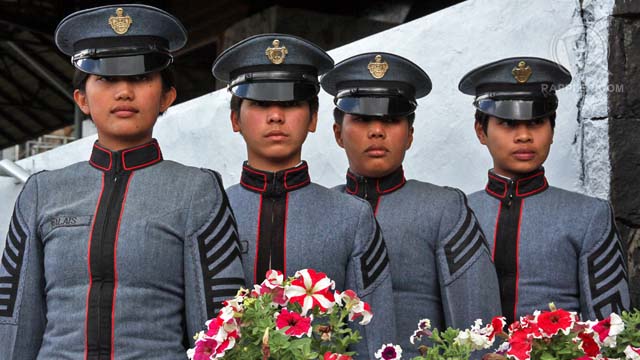 BAGUIO CITY, Philippines -
Four female cadets of the Philippine Military Academy (PMA) will be graduating at the top 10 of their class on Sunday, March 17.
Graduating salutatorian is Cadet Maryam Dinamling Balais, who will likely be the toast of the town since she hails from nearby La Trinidad, Benguet. An Igorot who's a Muslim, she's the younger sister of Senior Insp Benjamin Balais, 2006 topnotcher at the Philippine National Police Adacemy.
Graduating No. 5 is Joselyn Dimapilis Advincula, while No. 8 is Vanessa Pascual Factor. Graduating No. 10 is Maila Agrabio Masican.
Read the top 10 list below:
1. Jestony Arman Lanaja
2. Maryam Dinamling Balais
3. Prolen Atchico Bonacua
4. Jess Nestor Saludo
5. Joselyn Dimapilis Advincula
6. Leode John Ruiz Tulang
7. Mark Ferdinand Villamin
8. Vanessa Pascual Factor
9 Jhed Tabangcura Dumocloy
10. Maila Agrabio Maniscan
Once an all-male institution, the PMA opened its doors to female cadets in 1993.
http://www.rappler.com/nation/23552-4-female-cadets-in-pma-s-top-10