From Rappler (Aug 1):
If choppers from Jordan do not arrive, Duterte vows resuming salvo of curses
President threatens to revive his tirades against UN rights chief and Jordanian prince Zeid Ra'ad Al Hussein if a donation of choppers does not arrive soon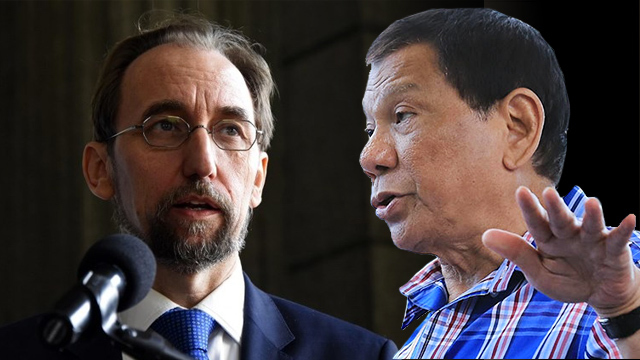 MANILA, Philippines – President Rodrigo Duterte's patience appears to be wearing thin.
The Philippine leader said he would resume his tirades against Jordanian prince Zeid Ra'ad Al Hussein, the United Nations human rights chief, if Manila does not receive two choppers from Jordan soon.
"Hanggang ngayon wala pa yung helicopter. Bantay kayo, sir (Until now the choppers haven't arrived. You watch, sir)," he said on Tuesday, July 31 during the National Security Council anniversary.
"'Pag hindi dumating 'yun, tuloy ko talaga yung mura (If that doesn't arrive, I'll continue with the cursing)," he added.
Duterte had previously said he agreed to
tone down his remarks
about Zeid since the Philippine government was trying to seal a donation from Jordan of two Cobra attack helicopters.
The donation was the result of talks led by National Security Adviser Hermogenes Esperon Jr who was the official who asked Duterte to practice more restraint when speaking of Zeid, cousin of Jordan's King Abdullah.
Esperon was present during Duterte's Tuesday speech.
Duterte did not mention when he wanted the refurbished Bell AH-1 Cobra attack helicopters from Jordan to arrive. Esperon had previously pegged their cost at $18 million (P942 million) each.
Duterte has called Zeid
"empty-headed"
and told him to
"shut up"
after the UN official said the Philippine leader needs
"psychiatric evaluation."
Zeid has also been critical of Duterte's campaign against illegal drugs.
A recent Social Weather Stations survey found that a majority of Filipinos
found Duterte "bastos"
(rude) for insulting Zeid.
https://www.rappler.com/nation/208646-duterte-warning-resume-insults-jordanian-prince