Posted to NewsClick (May 11):
Activists Groups in Philippines Oppose Military Exercises with US
They argue that the operations are a violation of the sovereignty of the Philippines and will strengthen US military presence in the region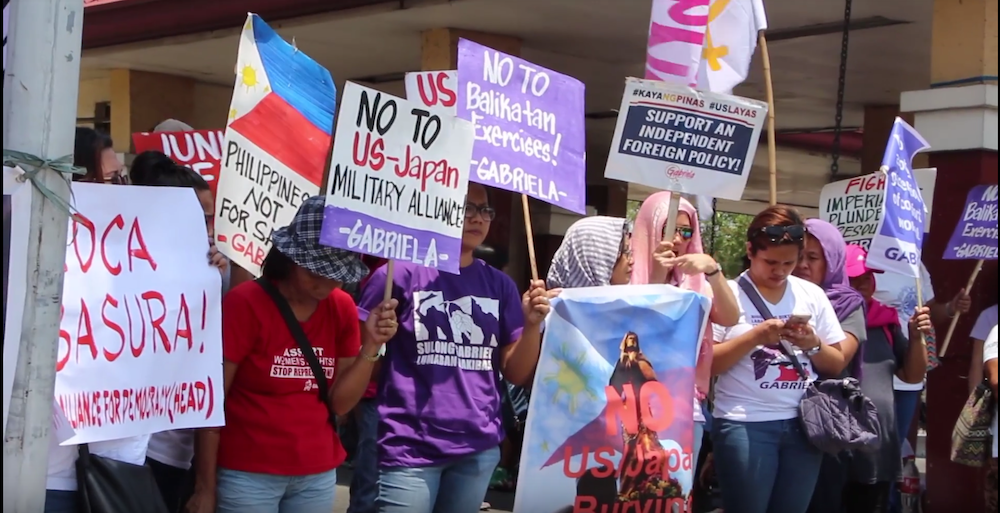 Activists in the Philippines protested against the 12-day-long Balikatan (shoulder-to-shoulder) joint military exercise between the US and Philippines that started on May 7. Activist groups, including
Bagong Alyansang Makabayan
and Central Luzon organisations, accused the government headed by President Rodrigo Duterte of putting the
sovereignty of the Philippines
at stake by repeatedly allowing the US to conduct military exercises.
The exercise, as per military spokesperson Lt. Liezl Vidallon, is aimed at "enhancing interoperability, mutual defense, humanitarian assistance and counterterrorism" among the two nations. However, activist
Satur Ogumba
argued that, "This military exercise has two features; first it allows the participation of Japan and Australia that are America's close cohorts in Asia and secondly, the start of construction, inside a Philippine base, of the first of five US facilities wherein the superpower can preposition military equipment and supplies for its exclusive use in operations in the Asia-Pacific region."
While Philippines Defence Secretary Delfin Lorenzana claimed that the drills would focus on interoperability training to address domestic and non-domestic security concerns. activists groups argued that "the
Balikantan is a violation of Philippine sovereignty
that foreign military forces continue to exercise power in the country through agreements such as the Visiting Forces Agreement and the Enhanced Defense Cooperation Agreement."
"What happens is that the US merely takes advantage of disputes between the Philippines and China to sell us the illusion that US military presence is good for the Philippines," Bagong Alyansang Makabayan,
noted
. "The US has made the Philippines a staging ground for power projection in the region. Whatever happened to Duterte's declaration that the 2016 Balikatan would be the last? He continues with his policy of serving two imperialist masters," the group remarked.
As per government estimates, almost 5,000 Philippines troops and 3,000 Americans are participating in 34th round of the annual drills. One of main reasons behind conducting these military drills was to focus on areas in Mindanao, where the Armed Forces of Philippines was battling the Abu Sayyaf group.
This year's Balikantan is scheduled to be conducted in several locations on Luzon island. Activists held
protest
rallies on May 8, demanding that
"the US military needs to clean up toxic wastes they left in their former military bases in Central Luzon".
https://newsclick.in/activists-groups-philippines-oppose-military-exercises-us