From the Philippine Star (May 11):
17 BIFF, Abu Sayyaf bandits surrender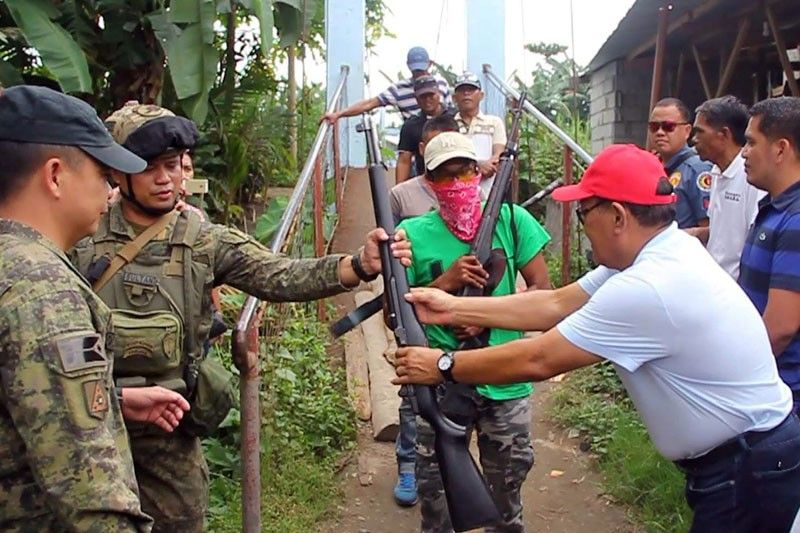 BIFF men surrender their guns to the Army's 33rd and 2nd Mechanized Infantry Battalions in Maguindanao yesterday in this photo provided by the 6th Infantry Division.

MAGUINDANAO, Philippines —
At least 11 members of the Bangsamoro Islamic Freedom Fighters (BIFF) surrendered in this province yesterday.

The BIFF men led by Sindatok Dilna surrendered through the intercession of Maj. Gen. Arnel dela Vega of the 6th Infantry Division (ID).

The surrenderees, who claimed they operated in M'lang, North Cotabato and General S.K. Pendatun, Maguindanao, said they have lost their faith in the leadership of the BIFF for ignoring the abuses of members against innocent civilians.
In Basilan, a sub-leader of the Abu Sayyaf and five of his men surrendered on Wednesday.

The bandits, led by Apan Apino, alias Mudzrin, surrendered following an operation launched by the 4th Special Forces Battalion under the Joint Task Force Basilan.They turned over five rifles, a grenade launcher and various types of ammunition.

At a debriefing, the bandits said they are tired of fighting, citing relentless military offensives against the Abu Sayyaf.
Brig. Gen. Juvymax Uy, Joint Task Force Basilan commander, said the military has earned the support of civilians victimized by the bandits.
"We are giving (the Abu Sayyaf) the option... Reconsider peace by surrendering while the door is still open," Uy said.
https://www.philstar.com/nation/2018/05/11/1814078/17-biff-abu-sayyaf-bandits-surrender